South Koreans continue street potests against FTA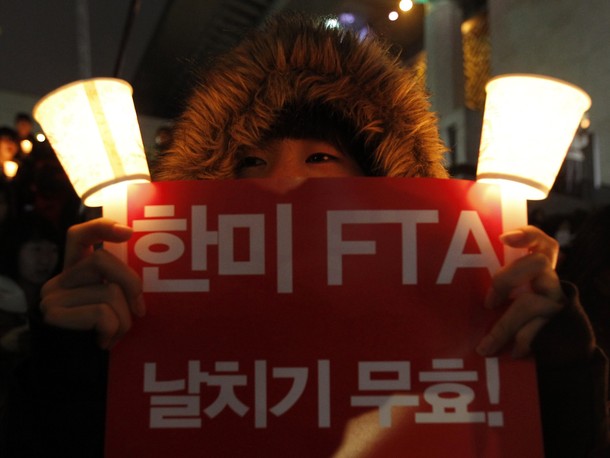 VoA | November 26th, 2011
South Koreans continue street potests against FTA
At least 2,000 people gathered in South Korea's capital late Saturday to protest parliament's ratification of a free trade agreement with the United States.
Demonstrators in Seoul held lit candles and chanted slogans against the deal which they feel will hurt South Koreans, especially farmers and small retailers. Protesters clashed with police in the city's main square.
Opposition lawmakers joined the rally, denouncing the administration of President Lee Myung- bak and the ruling Grand National Party for pushing the agreement through parliament. Some protesters demanded the president's resignation, accusing him of signing of a deal that favors the United States.
Opponents have staged street protests since lawmakers ratified the free-trade deal Tuesday.
Supporters say the trade agreement will increase South Korean exports and create jobs.
The long-delayed deal was approved last month in Washington after being stalled for four years.
President Lee defended the deal Friday, saying that it was the right thing to do for the country's economic survival. He said lifting trade barriers will create an opportunity to boost South Korea's competitiveness in the U.S. market.
---