Spanish organizations denounce transatlantic free trade agreement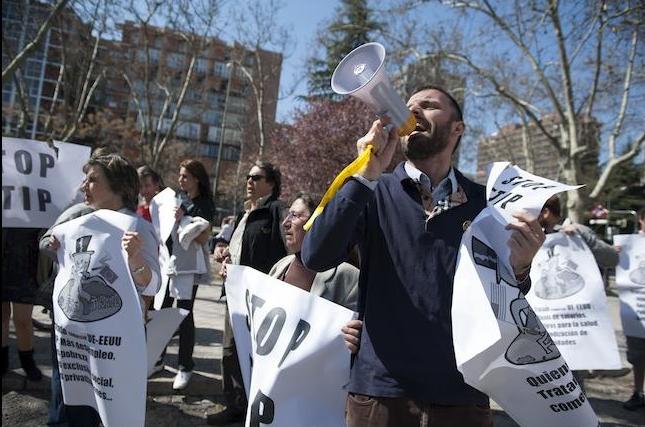 Prensa Latina | 27.03.2014
Spanish organizations denounce transatlantic free trade agreement
Madrid, Mar 27 (Prensa Latina) — Spanish social and union organizations condemned today trade negotiations between the European Union and the United States to sign the Transatlantic Free Trade and Investment Partnership (TTIP).
A letter presented at the head office of the European Commission in Spain expressed concern about generalized cut of people's fundamental rights and unprecedented influence on large corporations that the agreement would bring.
The dangers of the agreement include possible elimination of safeguards from degradation of social, labor, food, environmental, health and energy regulations.
The agreement would allow investors demanding compensations as a result of regulations and laws and other Government decisions that reduce their profit-making opportunities.
The document denounced that according documents leaked, several panned regulations would be contrary to the International Covenant on Economic, Social and Cultural Rights and would increase privatization of health and public education.
It also expresses that administrations would be prevented from regulating the financial sector, restricting mergers, establishing taxes and tariffs to banks and financial transactions or establishing control of capitals.
The signing organizations defend an Alternative Trade Mandate and a review of the trade regime to base it on democracy, cooperation, participation, human rights, social justice, gender equality and sustainability.
The letter was signed by the Spanish Confederation of Consumers and Users, the General Labor Confederation, the Spanish Federation of Engineers without Borders, the Group for Research on Human Rights and Sustainability-UNESCO Chair.
---