Swiss group challenges trade partnerships
All the versions of this article: [English] [français]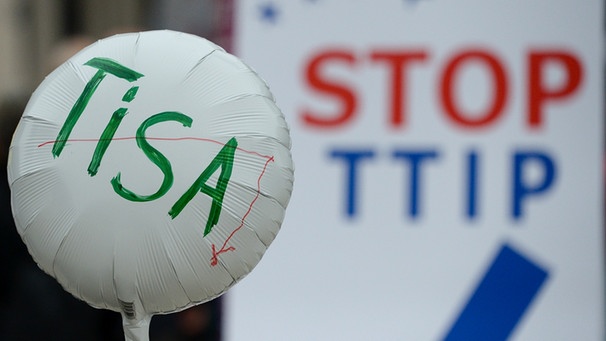 Swiss Info | 21 June 2016
Swiss group challenges trade partnerships
An interest group opposing the Transatlantic Trade and Investment Partnership (TTIP) has formed in Switzerland. On Tuesday, the "Together against TTIP, TISA & Co." alliance introduced itself in Bern.
TTIP is a proposed trade agreement between the United States and the European Union, of which Switzerland is not a member. TISA (Trade in Services Agreement) is being negotiated between the US and 23 members of the World Trade Organisation, including the EU and Switzerland.
More than a dozen organisations – including Switzerland's Green Party and Social Democrats as well as the Swiss Federation of Trade Unions – have joined forces to challenge these agreements.
The alliance says that the deals pose a threat to democracy, the environment, workers' rights, data protection and public service. For example, it fears that efforts to harmonise international employment standards could cost jobs in a country like Switzerland, where the standards are high. Or the environment could suffer, with nuclear and coal plants getting the same subsidies as renewables in the wake of agreements stipulating that all players in the energy sector be treated equally.
In an open letter to Economics Minister Johann Schneider-Ammann, the group insisted that the Swiss public be informed about the negotiations and that any agreements be subject to a referendum.
Both the US and the EU are important markets for Switzerland. In addition to the European Free Trade Association Convention (EFTA) and Free Trade Agreement with the EU, Switzerland has 28 free trade agreements with 38 partners outside of the EU.
---