Taiwan needs regulatory reform to qualify for TPP: AmCham Taipei
Focus Taiwan News Channel
Taiwan needs regulatory reform to qualify for TPP: AmCham Taipei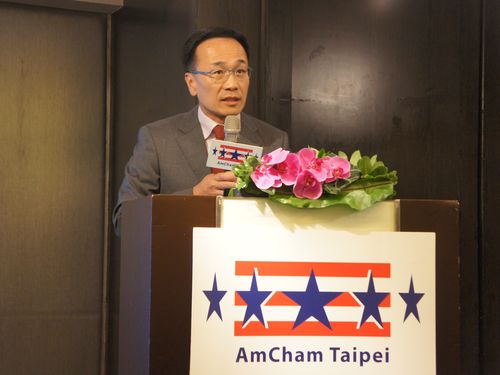 AmCham Chairman Thomas Fann.
By Jeffrey Wu
4 June 2015
Taipei, June 4 (CNA) The American Chamber of Commerce in Taipei (AmCham Taipei, 台北美國商會) urged the Taiwanese government Thursday to quickly prepare Taiwan's candidacy for second-round entry into the proposed Trans-Pacific Partnership (TPP) trade bloc.
In its 2015 Taiwan White Paper published Thursday, AmCham Chairman Thomas Fann (范炘) notes that TPP membership for Taiwan is no longer an abstract concept.
While first-round negotiations appear to be nearing a conclusion, Taiwan needs to firmly demonstrate its credentials as "a dedicated proponent" of trade liberalization and adherence to international norms and standards, the chairman said.
"The time is now, and we cannot wait anymore," Fann told a press briefing. "Although AmCham members generally regard Taiwan is an excellent place for doing business, Taiwan must be prepared to undertake some broad regulatory reform in order to qualify for TPP."
Since there is always "considerable bureaucratic resistance to change," AmCham Taipei's White Paper recommends that a TPP preparation task force be established under the Executive Yuan to oversee the reform process, ensuring that individual government ministries and agencies revise any measures that deviate from standard global practice, Fann said.
Another duty of the task force, he said, should be to carry out effective communication with the public, lawmakers and various stakeholders to explain the importance of TPP membership and the changes needed to achieve it.
The private sector should also consider setting up a pro-TPP business coalition to help promote TPP accession, Fann added.
The White Paper cites a number of examples from individual committee position papers of "Taiwan-unique" regulations that depart from accepted international practice.
These cover such areas as medical device pricing, recycling labeling, regulations on e-commerce for financial services, control of cosmetics advertising and the treatment of chiropractic.
"To prepare its TPP candidacy, Taiwan will need to start closing any gaps between its regulatory system and global best practices," Fann said.
Taiwan will also have to work toward resolving any outstanding major trade disputes with the existing 12 TPP negotiating countries, given that all the 12 countries must agree before prospective second-round candidates are accepted, Fann pointed out.
Founded in 1951, AmCham Taipei is a non-profit business organization dedicated to promoting the interests of international business in Taiwan. It has more than 1,000 members representing over 500 companies and 26 committees advocating various industry interests.
---