Taiwan urged to follow chewing gum example in addressing beef issue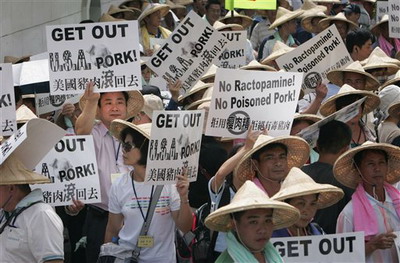 CNA | 2012/02/19
Taiwan urged to follow chewing gum example in addressing beef issue
Singapore, Feb. 19 (CNA) — A Singaporean academic suggested Sunday that Taiwan follow Singapore's approach to a sticky controversy with the United States over a chewing gum ban as it grapples with a dispute over imports of U.S. beef.
Lee Lai To, a senior lecturer with Nanyang Technological University's School of Humanities and Social Sciences, suggested that Taiwan look for a win-win initiative in dealing with the possibility of allowing residues of a leanness-enhancing drug in beef from the United States.
While Taiwan's Cabinet said it does not have a pre-set position on the issue or a timetable for dealing with it, livestock farmers across Taiwan are set to stage a protest in Taipei on March 5 against allowing residues of ractopamine in beef from the U.S.
The protest was planned amid rumors that the government might cave in to U.S. pressure and allow imports of U.S. beef that contain regulated amounts of the leanness-enhancing drug ractopamine, while maintaining its ban on the use of the drug by local farmers.
According to Li, authorities in Singapore outlawed the import, sale and manufacturing of chewing gum in 1992 as part of a campaign to turn the city state into a "clean and green" garden.
Ten years later, the chewing gum ban became a stumbling block for Singapore when it began free trade agreement talks with the U.S., with Washington, under pressure from U.S. lawmakers and chewing gum companies, insistent that Singapore lift the ban.
In the end, Li said, the U.S. and Singapore reached a consensus — Singapore maintained its chewing gum ban in general, but allowed in gum with therapeutic value, such as dental and medicated gum.
Li suggested that by following the Singaporean example, Taiwan could allow in some U.S. beef under strict conditions while still maintaining its ban on the use of leanness enhancing drugs.
Taiwan is currently considering whether to accept U.S. beef with limited ractopamine residues under pressure from Washington. The leanness-enhancing drug is allowed in more than 20 countries but is banned in the European Union, Taiwan, and over 100 other countries.
Washington saw the issue as important enough to block the resumption of talks under the Trade and Investment Framework Agreement after Taiwan cracked down on U.S. beef with ractopamine residues in early 2011.
(By Tang Pei-chun and Deborah Kuo)
---