Thailand and Russia-led bloc to launch free trade talks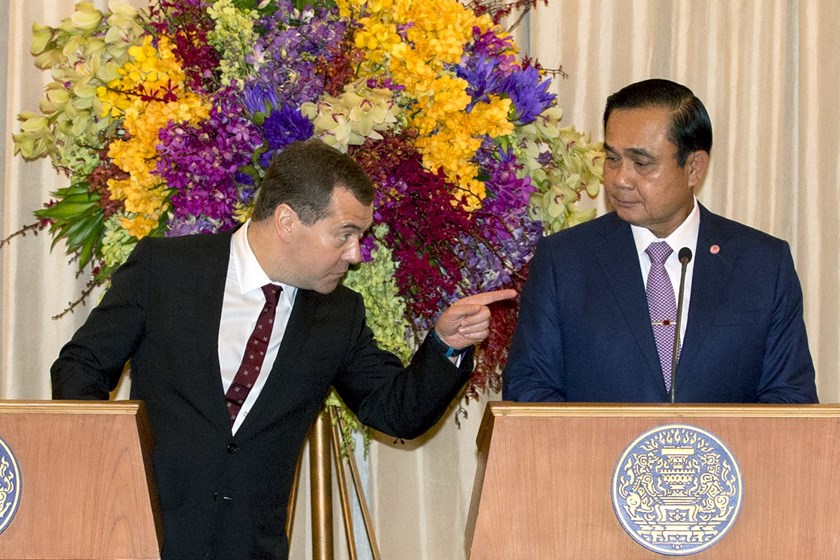 Nikkei | 27 February 2018
Thailand and Russia-led bloc to launch free trade talks
by Apornrath Phoonphongphiphat
Thailand plans to begin talks soon on a free trade agreement with Eurasian Economic Union, a Russian-led trade group, concluding the discussions within a few years, according to Thai government officials.
Through the pact, Thailand hopes to triple trade between the two sides to $10 billion by 2020, said Oramon Sapthaweetham, director-general of Thailand's Trade Negotiations Department on Monday.
A trade deal is expected to attract new investment in the Eastern Economic Corridor, a development project, said Oramon.
The idea for a trade agreement emerged in 2016, when Thai Prime Minister Prayut Chan-ocha visited Russian Prime Minister Dmitry Medvedev in Moscow, according to Oramon. It was Medvedev who broached the subject of trade talks.
"Russia acted as a leading EEU member to encourage Thailand to start negotiating for an FTA, as an FTA would be a win-win trade and investment [agreement] that benefits both sides," Oramon said.
In addition to Russia, the Eurasian Economic Union comprises Kazakhstan, Belarus, Armenia and Kyrgyzstan. The bloc's combined gross domestic product, at $4 trillion, is equal to around 3% of global GDP.
Oramon said China's Belt and Road Initiative is expected to facilitate trade in Eurasia. Improvements to infrastructure are making the area more attractive to Thai investors, particularly food processors.
The Russian-led bloc signed a free trade agreement with Vietnam in 2016. Vietnam was the first country in Southeast Asia to conclude a pact with the group, helping lift trade between the two sides by 32% in 2017. According to the union, merchandise exports from Vietnam rose 28% on the year in 2017.
Thailand's trade with the group was worth $3.3 billion in 2017, up 57% from the previous year. A trade deal is expected to sharply increase trade between the two sides by lowering tariffs and smoothing the flow of goods, according to Timur Akhametzhanov, a diplomat with the Kazakh Embassy in Thailand.
Some Thai companies have already invested in members of the group. Agricultural conglomerate CPF, for instance, bought Russian poultry dealer Agro-Invest Brinky B.V. in 2015. Others have invested in spas, chemicals and food-processing in the union in the past few years.
Oramon said the FTA will also spur inbound investment from the EEU, particularly Russian investment in Thailand's Eastern Economic Corridor. The special economic zone, which spans three coastal provinces east of Bangkok, is designed to host high-tech industries.
Recently, a group of Russian representatives visited the corridor and signed a memorandum of understanding for a feasibility study, Oramon said.
---