The powers pushing for a planet-wrecking trade deal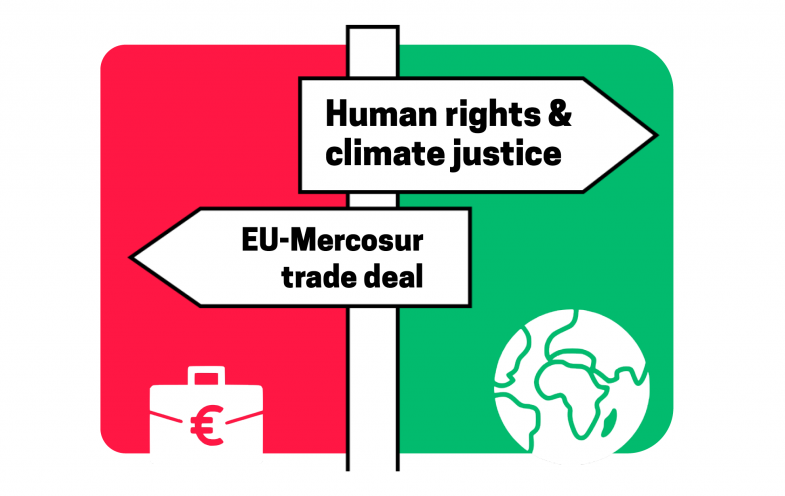 Friends of the Earth Europe | 28 March 2022
The powers pushing for a planet-wrecking trade deal
This report exposes the corporations most eagerly and successfully lobbying for the EU-Mercosur trade deal – a deal designed to increase profits at the expense of climate, biodiversity, health and indigenous rights.
Friends of the Earth Europe has demanded through access to documents requests correspondence and minutes relating to various lobby meetings of the European Commission's DG Trade.
Numerous tell-tale quotes reveal how agrichemical and car industry lobbies – along with neoliberal think tank allies – and big business in general, are pulling out all the stops to get the EU-Mercosur trade deal ratified.
BusinessEurope, argued that social and environmental standards "cannot supersede economics and prevent the EU from pursuing its bilateral trade agenda", implying the deal should be ratified no matter its negative impacts. EU Trade Commissioner Dombrovskis, meanwhile, took words directly from BusinessEurope's mouth, repeating that it is important to "shape a more positive narrative around the agreement, and that business can help shaping this narrative, especially regarding sustainability.
Chemical giants Bayer and BASF have been actively pushing for the deal, from which they would benefit hugely through increased sales of hazardous pesticides –and imports of ethanol, which drives biodiversity loss and indigenous rights violations. Bayer pays neoliberal think-tank ECIPE to promote the EU-Mercosur deal under the guise of offering a "more balanced" and "fact-based" debate. Yet ECIPE gives the floor to organisations that deny the link between soy and deforestation, while helping Brazilian companies to greenwash on their own behalf.
Meanwhile, Parliamentary rapporteur on the EU-Mercosur deal Jordi Cañas – a big fan of the Bayer-funded ECIPE project – told us he will not be publishing details
of his lobby meetings before the official procedures for ratification start, thus thwarting lobby transparency during this critical period.
We found a striking disconnect between the reassuring words of corporate lobbies like BusinessEurope, BASF, Bayer – and ECIPE, the think tank it's funding – and the stark reality of human rights and environmental abuses on the ground in Mercosur countries. This demonstrates once again that the interests of the business lobbies EU institutions listen to are fundamentally at odds with the EU's green goals.
Read the report (pdf)
---