Theresa May stokes fears NHS 'for sale' in post-Brexit US trade deal after refusing to rule it out of Trump talks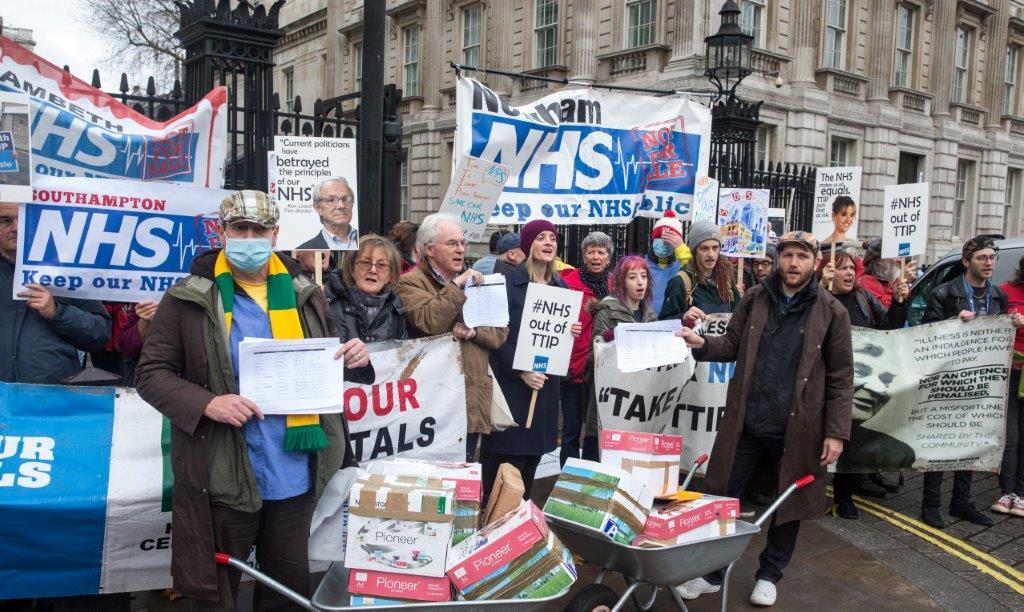 The Independent | 7 February 2018
Theresa May stokes fears NHS 'for sale' in post-Brexit US trade deal after refusing to rule it out of Trump talks
by Rob Merrick
Theresa May has stoked fears that the NHS will be "for sale" in a trade deal with the US after Brexit, after refusing to say it will be excluded from the talks.
The Prime Minister was warned that a "key objective" for Washington would be gaining access to the health service, which is being opened up to more private firms.
"Can she give an absolute guarantee that, in those negotiations, the NHS will be excluded from their scope" asked Vince Cable, the Liberal Democrat leader.
"Can she confirm that, in her conversations with President Trump, she has made it absolutely clear to him the NHS is not for sale?"
But, in her reply, during Prime Minister's Questions in the Commons, Ms May said it was too early to judge what "requirements" the US would have in those post-Brexit trade talks.
Her answer failed to mention the NHS at all, instead saying negotiations were already "starting" to try to boost trans-Atlantic trade, even before Britain leaves the EU.
The Prime Minister added: "He doesn't know what they are going to say are their requirements for that free trade agreement.
"We will go into those negotiations to get the best possible deal for the United Kingdom."
The comments were seized on by Peter Kyle, a Labour MP and supporter of the pro-EU Open Britain campaign, who said: "Theresa May just gave Donald Trump the green light to get his hands on our National Health Service."
Her refusal to rule out opening up the NHS to US health giants "underlines her weakness in trade negotiations and should concern us all", Mr Kyle added.
And the Green Party co-leader, and champion of the pro-EU Best for Britain group, Caroline Lucas said: "The Prime Minister's refusal to guarantee protection for the NHS in a US trade deal was truly shocking.
"Make no mistake, an extreme Brexit is a profound threat to our health service – and MPs who love the NHS need to oppose the Tory Brexit plans."
Later, No 10 tried to repair the damage done, insisting any trade deals after Brexit would "ensure decisions about public services continue to be made by UK governments, not trade partners".
"As we leave the EU, the UK will continue to ensure that rigorous protections for the NHS are included in all trade agreements it is party to," the Prime Minister's spokesman added.
He pointed out that Ms May had previously pledged that "the NHS is not for sale and it never will be".
However, the clash over the US potentially targeting the NHS comes after research found that the proportion of health service contracts being won by non-NHS firms ballooned to almost 70 per cent last year.
Private care providers were awarded 267 out of a total of 386 contracts made available in 2016-17 – taking spending up by £700m to £3.1bn.
Critics say this rising "privatisation" has opened the door to US health firms, who already view the NHS as a gold mine – even before talks on a trade deal after Brexit.
Furthermore, Ms May is already under fire for failing to challenge the US President after he mounted an attack on the NHS describing it "broke and not working".
The two leaders shared a phone call on Tuesday night, discussing a new US law allowing American authorities to access data held overseas in order to tackle crime and terrorism.
However, No 10 confirmed the Prime Minister did not raise Mr Trump's Twitter outburst against the health service – despite Jeremy Hunt, the Health Secretary, condemning it.
---