This is how Big Business negotiated the TTIP
All the versions of this article: [English] [Español]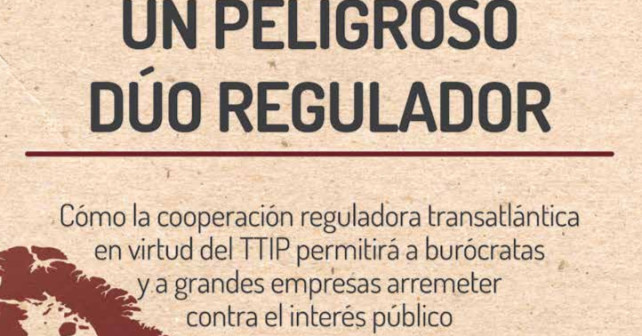 This is how Big Business negotiated the TTIP
Author: Ecologistas en Acción, 5-4-16
Translated by Anoosha Boralessa (10 April 2016). Not reviewed by bilaterals.org or any other organization or person
A report 'A Dangerous Regulatory Duet' explains how lobby groups of major multinationals, influenced the negotiations of the trade treaty between the European Union and the United States.
A crucial aspect of the negotiations of the Transatlantic Trade and Investment Agreement between the EU and the US (the English acronym for which is TTIP) consists in adapting legislation on both sides of the Atlantic, through what is known as regulatory cooperation. This part of the conversations involves dismantling existing "regulatory barriers" and preventing new ones arising, ensuring that legislation promoting the public interest has to pass long procedures for approval, that include a possible corporate veto on account of its impacts on trade. The concern is because the trade agreement triggers attacks against environmental protection, safety at work, public health or food quality is more than justified: the report "A Dangerous Regulatory Duet", published by Corporate Europe Observatory, Lobby Control and Ecologistas en Acción, recently translated into Spanish, reveals that the regulatory cooperation mechanisms have already been used by corporate lobby groups to delay, dilute and avoid legislation promoting the public interest.
The report examines the origins and effects of the TTIP proposals on regulatory cooperation. It shows that, right from the beginning, the process has been dominated by big business. The examples highlighted in the study are the EU's weakened ambition to manage dangerous electronic wastes, the failure to supervise the insurance giant, AIG, in the years prior to the 2008 financial crisis, the exemption offered to US companies via the safe harbours to the Agreement, which permitted them to ignore the regulations on protecting personal data, and proposals that delayed or weakened legislative proposals on tests on animals, substances that damage the ozone layer and aviation emissions.
The EU's preferred approach – in order to ensure that laws are similar on both sides of the Atlantic – is exactly the type of "regulatory cooperation" that has already given rise to weakened social and environmental conditions in the EU.
The report also shows that, while the TTIP negotiations were officially begun in 2013, preparations for the agreement began decades before, in secret, with privileged access for representatives of big business. The TTIP regulatory cooperation is claimed to cover the whole spectrum of political policies that range from regulating chemical products to labour policies, data protection or agriculture, which converts the treaty into one of the fundamental objectives of corporate lobby groups.
You can download the report in Spanish here
---