Thousands protest in Brussels against US, Canada trade deals
Todas las versiones de este artículo: [English] [français]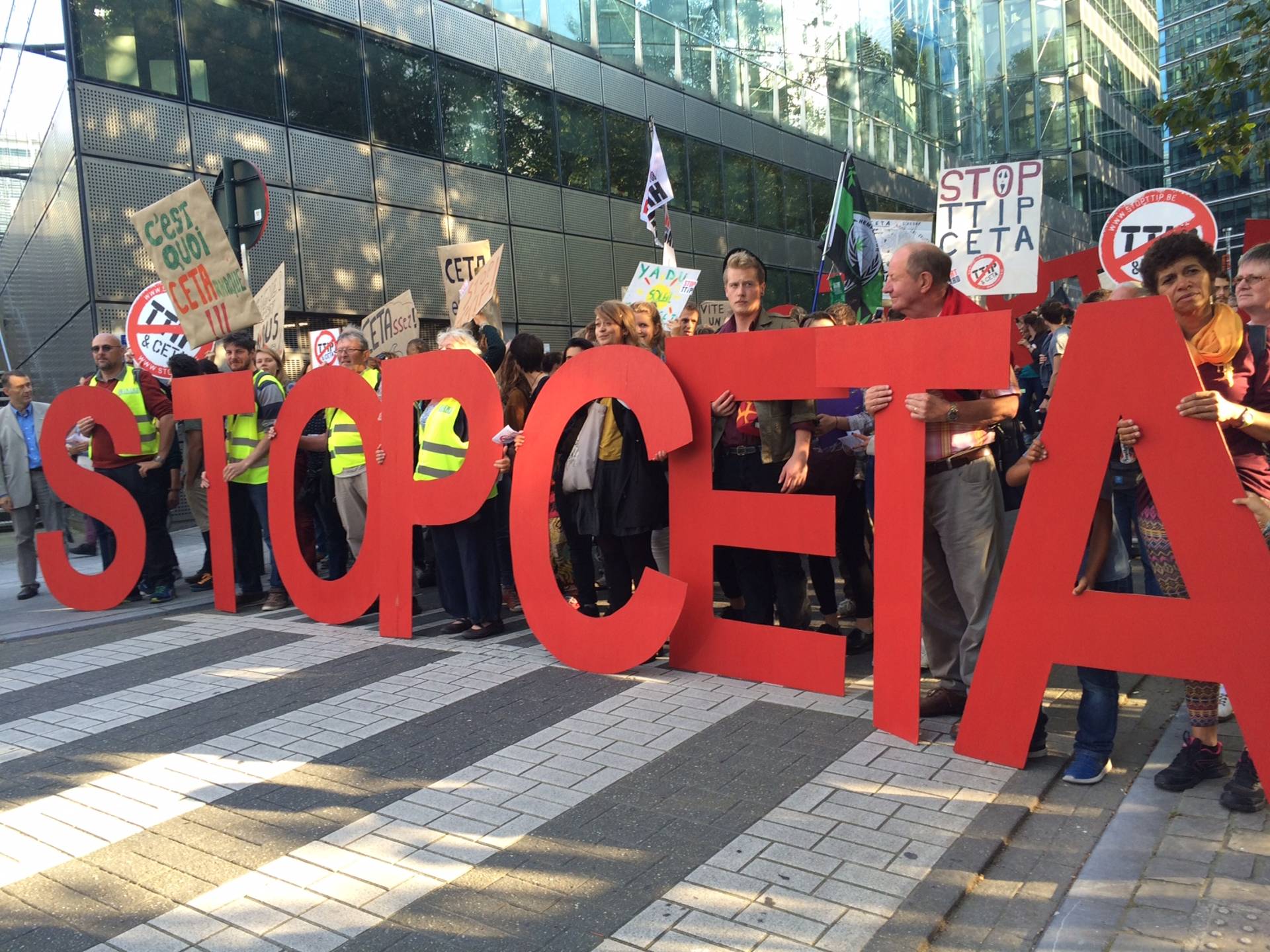 EurActiv | 21 September 2016
Thousands protest in Brussels against US, Canada trade deals
Thousands of protesters marched through Brussels on Tuesday (20 September) to demand the European Union abandon planned transatlantic free trade deals they say will worsen labour conditions and allow big business to challenge governments.
The protests came after mass rallies in German cities on Saturday against the European Union's planned Transatlantic Trade and Investment Partnership (TTIP) with the United States, and the Comprehensive Economic and Trade Agreement (CETA) with Canada.
Organisers, including unions, environmental and consumer groups and public health insurers, said between 10,000 and 15,000 people headed to the EU quarter of Brussels by early evening. Police put the number at 6,000.
"TTIP, CETA, we don't want them," protesters shouted, as police helicopters hovered loudly overhead. "We are sure to be the big losers. This will be a shock to agriculture," said farmer Stéphane Delogne.
Greenpeace activists in chemical protection suits spray painted 'No TTIP' and 'No CETA' on the roads before several tractors led a large crowd carrying placards to the European Commission, which is responsible for negotiating trade deals.
Two large inflatable horses had been placed outside the Commission headquarters, one labelled TTIP, the other CETA. Critics say that the CETA is a Trojan horse that will usher in the wider TTIP accord.
Popular backlash
The EU and US began negotiating TTIP in 2013, aiming to create the world's biggest free trade market of 850 million consumers.
But the talks have become bogged down amid widespread fears in Europe that the deal would undercut the 28-nation bloc's standards in key areas such as health and welfare.
There is a growing popular backlash in the West against free trade and globalisation, which critics blame for factory closures and depressed wages. Anti-TTIP and CETA groups say the trade deals would hand more power to multinationals and degrade food, environmental and labour standards.
These popular fears have found an echo among senior politicians in France and Germany where a Presidential election and a general election are being held next year.
October round of talks
Proponents say the deals will spur growth and increase jobs, at a time of global slowdown, and will serve as gold standards for others to follow.
A new round of talks is due in October, with US President Barack Obama hoping a deal can be concluded before he leaves office in January.
Cecilia Malmström, the EU commissioner for trade, warned on Tuesday that reaching that deadline "became less likely as time went on."
"There will a treaty with the US but maybe after a natural pause to give time to a new administration in the US," Malmström told RTBF radio in Belgium.
Malmström also defended the Canada deal, which has already been negotiated and is due for signature in October.
But resistance late in the game has forced the EU to seek ratification of the Canada deal by national and regional parliaments across Europe, which could take months and more likely years to obtain.
"Canada is not the United States. Just because they are next to each other on a map does not make them the same," Malmström said, as she urged swift ratification.
---