Time to challenge the influence of big business in EU policy making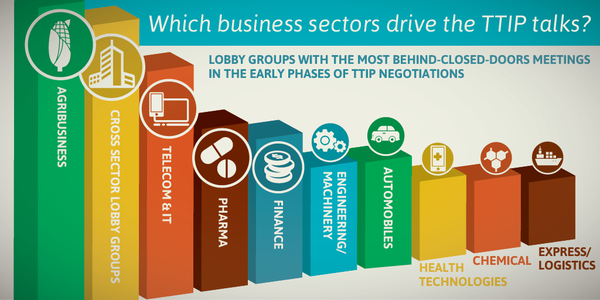 The Parliament Magazine | 20 Jul 2015
Time to challenge the influence of big business in EU policy making
Written by Vicky Cann and David Lundy
The EU's well-oiled revolving doors are keeping corporate lobbying in the TTIP driving seat, argue Vicky Cann and David Lundy
It's no secret that the line between politics and business can be thin to the point of near-invisibility. But the fact that this border is so diffuse and remains largely unchecked at the highest levels of EU policy-making retains a shock value for most, as the issues at play are so significant.
Last week's talks on the EU-US transatlantic trade and investment partnership (TTIP) in Brussels and the unprecedented levels of corporate lobbying that surround the negotiations offer a reminder of how major players are so freely able to cross that line between public and private, despite the risks of conflicts of interest that are involved.
Here at Corporate Europe Observatory (CEO), we have just published research on several people with links to the TTIP talks who have switched from the public sector to private business or vice versa.
Among the most well-known faces apparently spinning through the revolving door of late was former trade commissioner Karel De Gucht, who left office late last year to be replaced by Cecilia Malmström who is currently steering the TTIP talks for the European commission.
De Gucht's case is particularly symbolic because it was he who lead the preparations and first negotiations on TTIP as well as pushing for the inclusion of the investor-state dispute settlement (ISDS) - whereby a company can sue a state at an international tribunal of private lawyers over a change in law that impacts its profits - chapter that has caused so much controversy among citizens and campaigners.
Although he has yet to do so, De Gucht has commission authorisation to join the management board of Belgacom, Belgium's largest telecoms company, and a member of the European Telecommunications Network Operators' Association (ETNO).
This lobby group held meetings with commission trade policy officials on TTIP during De Gucht's term as commissioner. Officials briefed ETNO on the opening round of TTIP talks and promised to "further analyse and discuss internally" ETNO's position "to identify if new elements should be brought into the negotiations".
In our view, the commission should not have approved the move of a former commissioner to such a role at Belgacom, even with an 18 month lobby ban in place. The risk of possible conflicts of interest is especially high as, according to data that we have released this week, the telecommunications sector is third in the list of heavy-hitting sectors securing meetings with the commission to defend their interests in TTIP.
Another interesting case that shows how the revolving door can rotate a full 360 degrees is that of Jan Eric Frydman. A partner at the Ekenberg & Andersson law firm in Stockholm Frydman leads their transatlantic practice and was recently appointed as a special adviser to Cecilia Malmström, to specifically advise on trade policy, especially with the US.
Frydman previously worked in the commission for more than 15 years until 2013, including spells at DG Enterprise and industry. The commission and Frydman claim that current rules are sufficient to prevent possible conflicts of interest but we consider that there is an essential problem that Frydman's role at Ekenberg & Andersson could still give rise to potential conflicts of interest.
The commission should be more thorough when appointing special advisers and it should put far stronger safeguards in place.
Two cases highlighted in the report come from the European parliament as public affairs and communications consultancy firm gplus recently hired former German ALDE group vice-president Silvana Koch-Mehrin. This case shows quite clearly how revolving doors spin in Brussels and demonstrates why the parliament needs to urgently implement rules that properly tackle the risks of conflict of interests.
With this new recruit, gplus now has access to insider know-how and contacts gained by Koch-Mehrin over two terms as an MEP. Parliament will have a final say on the results of the TTIP negotiations so having such a trade-knowledgeable ex-MEP is likely to be invaluable for gplus which declares an annual lobby spend of at least €3,000,000 and has 28 staff with accredited parliament passes.
The other MEP case we have highlighted is that of Koch-Mehrin's party colleague and compatriot, Holger Krahmer.
Krahmer built a career based on the ardent defence of car manufacturers against regulatory 'interference' on sensitive issues such as CO2 emissions. Now as director of European affairs, public policy and government relations at Opel, Krahmer lobbies for the very industry he had previously regulated as a legislator.
Owned by General Motors, Opel has a keen interest in TTIP and Krahmer's experience is likely to be extremely useful in advancing attempts to harmonise (read: lower) US and EU regulations with which the auto industry must comply.
The various cases detailed in the report are only a partial view of the revolving door phenomenon. Despite being a major public interest issue, lack of transparency makes it difficult to track all the comings and goings.
The corporate dominance of the TTIP talks and the brushing aside of public concerns over the implications of the negotiations has ironically lead to greater public awareness of the threat posed by potential special privileges for foreign investors, reduced food and safety standards, public health, and the general consolidation of corporate power.
As the talks continue, awareness of the revolving doors problem and its exacerbating influence on what is already a pro big-business project will be crucial for citizens to challenge this agenda.
Click here to access CEO's latest report: The revolving door: greasing the wheels of the TTIP lobby
About the author
Vicky Cann and David Lundy are campaigners for the Brussels-based lobbying transparency group Corporate Europe Observatory (CEO)
---