To prevent influx of imports hurting Indian steelmakers, Centre set to raise this shield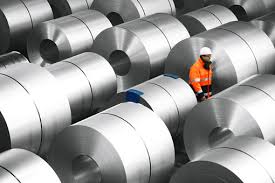 Financial Express | 28 August 2017
To prevent influx of imports hurting Indian steelmakers, Centre set to raise this shield
The steel ministry has recommended keeping steel in the negative list under the proposed regional comprehensive economic partnership (RCEP) agreement, in order to avoid influx of imports hitting domestic manufacturers of the alloy.
India's bilateral free trade pacts with Japan and Korea had led to a surge in imports from these countries, forcing the government to resort to anti-dumping duties and other measures to protect the local industry.
The negative list implies protection from tariff cuts under the RCEP. In the face of rising imports, India has taken a series of tariff and non-tariff measures since early February 2016 which helped rein in imports by 36% in 2016-17 to 7.4 million tonne.
The RCEP is a proposed regional free trade agreement (FTA) between 16 Asia-Pacific nations including China and Japan, besides the 10-member ASEAN bloc. "Opening the Indian steel market further to China, which is the world's largest surplus steel producer, will be a definite threat to the Indian steel industry. It will also mitigate the impact of recently-imposed anti-dumping duties on hot-rolled coil and other products.
We have written to the the commerce ministry (seeking to put steel items under the negative list," a steel ministry official said. The steel ministry believes that removal of tariff barriers will be highly profitable to steel-surplus nations and will lead to huge consequential losses to the domestic industry.
India had signed a comprehensive economic partnership agreement (CEPA) with South Korea in 2010 and in the following year, it had inked a similar pact with Japan. Taking advantage of CEPA agreement, which offers concessional tariff rates, Korea and Japan have made huge inroads into the Indian steel market, raising their combined exports to India to 3.3 MT in 2016-17 from 1.6 MT in 2010-11. India's exports of steel to these two countries fell to 39,000 tonne in 2016-17 from 43,000 tonne in 2010-11.
The steel ministry also believes that there was need to protect the domestic steel industry in view of capacity expansion plans. The national steel policy has set a target of achieving 300 MT domestic capacity by 2030-31, up from 88.4 MT at present.
As per the World Bureau of Metal Statistics, India's steel output would see an average annual growth of 8.9% during 2017-2021.
---