Tony DiMare says— Tomato imports 'sucking lifeblood' of US industry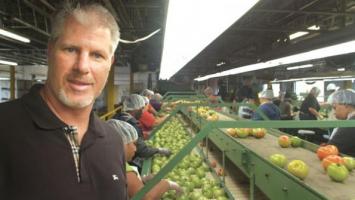 Delta Farm Press | Jan. 13, 2012
Tony DiMare says— Tomato imports 'sucking lifeblood' of U.S. industry
CHARLES JOHNSON
To better understandwhat's bugging Tony DiMare, drive less than a mile from his big packing house operation at Apollo Beach, Fla., to a Winn-Dixie grocery store and check out the produce section.
There are plenty of Mexican tomatoes on the shelf, and a few from Canada — but not one DiMare tomato, nor any from other U.S. producers.
A nearby Publix store does have U.S. tomatoes, along with imports, and even a small selection of DiMare tomatoes.
But the fact that local stores carry almost nothing from one of the nation's largest tomato growers and packers, located right down the road, is symptomatic of the industry's problems, says DiMare, vice president of DiMare Co., started by his grandfather and two great-uncles in Boston, Mass., 82 years ago.
Unprecedented imports of Mexican greenhouse tomatoes this season are sucking the lifeblood from U.S. growers, he says. This season's tomato market started off with prices running about $12 or $13 a box, but within a few weeks that plummeted to $4 to $7 a box.
"We have an oversupply of product," says DiMare, former chairman of the Florida Fruit and Vegetable Association as well as the Florida Tomato Exchange.
"Demand has been fairly slow, partly due to the economy. But we're losing the retail market for large tomatoes, which is primarily what we produce, to imported greenhouse tomatoes."
To prove the point, he turns to a computer next to his desk and pulls up the current USDA Agricultural Marketing Service Daily Movement Report. The numbers on Mexico greenhouse tomato imports of the new crop through December 9 illustrate the problem for Florida growers.
At Pharr, Texas, 827 truckloads of Mexican greenhouse tomatoes had entered the U.S. since the current season began. By the same date in 2010, none had entered the country. At the Laredo entry, 304 loads had come from Mexico, compared to zero the year before. At Otey Mesa, 1,089 loads came in, more than doubling the 479 of the year before. At Nogales, 976 loads entered by December 9, compared to 465 in 2010.
"We're seeing more volumeearlier in the season from Mexico and an increased ability by Mexican growers to transition from field culture to greenhouse growing," DiMare says. "They're growing tomatoes closer to the border and bringing them in through new entry points in Texas, reducing transportation costs in some instances to half what it was costing to bring them in through Nogales."
The North American Free Trade Agreement (NAFTA), signed into law in 1994 and designed to eliminate trade barriers between the U.S., Mexico and Canada, makes this new competition possible, he says.
The existing suspension agreement that could prevent Mexican growers from undercutting U.S. prices to below the level of production costs should be more effectively enforced, he contends.
"There's tremendous circumvention of that agreement. I call every year complaining about it. By the time you get the information about a violation, it's too late for them to do anything about it. They can wreak havoc in the marketplace for at least three weeks," he says.
"Plus, there are a lot of new Mexican producers who are non-signatory to the agreement, so they can sell without paying attention to the reference prices. It's becoming clearer and clearer — an event like this can knock you right out of the marketplace. They certainly don't recognize it in Washington, nor is there enough concern over whether we'll lose the industry because of it."
Because of their smaller numbers, Florida tomato producers don't pack the clout the corn industry does, for one example.
"But we are the winter producer from November to April," DiMare says. "Are they willing to risk losing a sector of the industry and rely on foreign countries to produce our food, plus run the risk of foodborne illness outbreaks? I think there are real sovereignty concerns involved here."
He acknowledges that monitoring tomato imports can be difficult even for industry veterans.
"They don't get intelligence from the industry until after the fact. By that time, oversupply has driven prices to the reference point in the agreement. We have to learn to take measures beforehand, to have measures in place to prevent these surges and disruptions," he says.
"The NAFTA suspension agreementsays we can't have disruption in the market from Mexico. The regulators can take action and that's the only way we're ever going to have control of the situation. But in a situation like the one we're now in, it's too late. The volume is there."
New entries to the international tomato marketplace also compete with Florida tomatoes.
"It isn't just Mexico," DiMare says. "Guatemala is producing for the U.S. market. South Korea now is, too. You can't blame them. In Mexico, the value of the dollar to the peso is 13-to-1.It's definitely an incentive to send tomatoes here and get dollars back.
"Through Dec. 9, the Guatemalans shipped 169 loads of tomatoes through Galveston, compared to 23 in 2010. What hurts more is that they moved 179 loads through Tampa by that date, compared to seven the year before.
"Why do we need tomatoes from Guatemala? What are we trying to accomplish? And through Tampa — right here in my backyard? It's just ridiculous!"
Florida's tomato industry now has about one-tenth the number of commercial growers it had 20 years ago as well as reduced acreage, DiMare says. He attributes the attrition to NAFTA's impact.
"The problem is that sometimes the industry doesn't realize what's happening until after the fact. We're allowing this to happen. Some people aren't as attuned to what's going on as they should be. They don't have the resources to keep up with the marketing side because they're so involved with the production side.
"At our company, we're not only growing tomatoes, we are the buyer, the packer and the distributor. We see and feel what's going on. There are not enough voices being heard to do anything about it. People are going to wake up some day and say, 'What happened to those tomato growers Florida had?'
"It's all about profitability. We are losing portions or maybe all of the industry. Big players — major companies — have shut their doors in the last few years. A lot of people lost jobs because of it. Do we really want that? It's black-and-white; the numbers don't lie."
Complicating matters, Florida tomato production costs now run more than $9,000 an acre, double the costs of a few years ago, DiMare says.
"Everything that is a derivative of petroleum has gone up in price. Tack on insurance, seed cost, workers comp and social security increases, plus increasing minimum wage that is now tied to the consumer price index. With the phasing out of methyl bromide, the cost of fumigation has gone from $250 an acre to $1,000.
"When you have increased costslike that, market losses are very significant. I don't see any short-term relief unless we see a mass exodus out of the industry or a mass reduction in acreage — and that isn't what anyone wants," DiMare says.
On this very morning, Florida tomato industry leaders got together on a conference call to discuss the situation. No solutions were offered.
"We know we can't look for answers after the product is produced." DiMare says. "We're growing a perishable product — we can't stick it in a bin and hold it there until the market gets better. There isn't enough unity in the industry to come together to cut supply. Plus, if we cut production, Mexican producers could undercut whatever we do here on prices."
It's the latest in a long line of marketing challenges for the DiMares.
"My dad, uncle, brothers, cousins and I eat, sleep and breathe this industry. This challenge we're facing with Mexico is really nothing new; we've lived under suspension agreements of some type since the 1950's. What we're seeing is this new Mexican growth affecting our Florida industry more than ever.
"Some people say, 'If it costs so much to produce tomatoes here, why don't you move to Mexico and do it?' Is that what we want — for families to pick up and move to Mexico? Florida is my home, and my brothers' home.We're not going to Mexico."
He knows Florida's tomato business is just one of several industries adversely affected by free trade agreements. He views those others warily.
"Look at textiles — the U.S. lost that industry. The only people that benefited were the corporations and maybe some stockholders. Can you tell me that's good for this country?"
DiMare also grows tomatoes in two California areas.
"That's part of what's keeping us in business now," he says. "Florida has always had an advantage with tomatoes in the East Coast market because of transportation costs. But the margin and our advantage are shrinking.
"I don't see any fix. I wish I did. I hate to sound so pessimistic, but the reality is just that — I can't change it; it is what it is. I try to look on the bright side and find where there might be opportunities, but I don't see any right now."
---