TPP could expedite farm reforms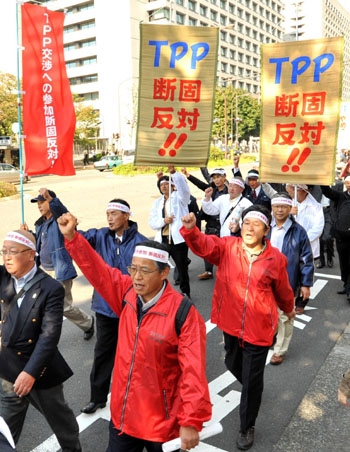 Japan Times | Saturday, Nov. 13, 2010
TPP could expedite farm reforms
Cheap imports feared, but as farmers age, change is inevitable
By KAZUAKI NAGATA
Staff writer
The agriculture industry is in the spotlight as a result of the government's interest in a U.S.-backed trans-Pacific free-trade agreement that could scrap high tariffs on heavily protected products such as rice.
While Pacific Rim countries deliberate a regionwide free-trade area in the ongoing Asia-Pacific Economic Cooperation forum meetings in Yokohama, the government has deferred until June a decision on whether to join the Trans-Pacific Partnership Agreement negotiations because of strong opposition from the agricultural sector and lawmakers from both the ruling and opposition camps who fear losing farmers' votes.
Many farmers fear that produce from overseas could flood the domestic market and destroy their industry, especially rice production. But analysts and even some rice growers say such concerns are exaggerated and view joining the TPP as a chance to reform domestic agriculture and promote farm exports.
Regardless of whether Japan joins the trade, analysts say the nation's agriculture industry, especially the rice sector, need drastic reform in the next five to 10 years as many farmers are aging and there are few successors.
"I doubt that the agriculture sector would suffer such devastating damage," said Takumi Fujinami, a senior researcher at Japan Research Institute. "Except for products protected with high tariffs such as rice, milk and sugar, many farm products are already being traded freely and the food industry is also using imported products to process food," he said.
On Oct. 27, the farm ministry released a forecast of the economic impact of joining the TPP, estimating that the immediate abolition of tariffs on 19 major agricultural products without taking mitigating measures would cut output by ¥4.1 trillion from the current ¥8 trillion and slash ¥7.9 trillion off the nation's real gross domestic product.
The ministry also said 90 percent of domestically grown rice on the market would be replaced by imported grain, and only 10 percent of premium rice would survive.
Based on this estimate, many voiced concerns that the trade pact would wipe out the agricultural sector.
However, Shin-ichi Shogenji, dean of the University of Tokyo's Graduate School of Agricultural and Life Sciences, said the ministry's estimate is based on an unrealistic assumption as it is "unthinkable" the government would not take steps to offset the lifting of tariffs on such products.
The TPP in principle requires the immediate elimination of tariffs on 80 percent of products, with the remainder to be lifted in 10 years.
Experts thus said it is hard, for example, to imagine imported rice replacing 90 percent of domestic rice. Nevertheless, Fujinami of Japan Research Institute pointed out that the impact on the market would be "unavoidable."
According to Fujinami's own calculations, domestic rice output stands at about 8.8 million tons annually, and would fall to about 2 million tons in 10 years without the government's income compensation for farmers, which is based on the difference between production costs and market prices.
If the government were to pay ¥23,000 in compensation per 10 ares to rice farmers whose paddies measure more than 2 hectares, Japan would manage to produce about 5 million to 6 million tons of rice in 2020, he said.
Yoshihiro Asakawa, senior vice president of Agricultural Technology Communications Co., a publisher of agricultural magazines, said it is true foreign rice would gain a share of the domestic market if Japan joins the TPP, but added "it is wrong to think Japan must have a 100 percent share of domestic rice."
Asakawa, who is in favor of joining the pact, added it would not be that straightforward for foreign rice to take over the domestic market.
For instance, he pointed out the U.S. produces only 1 million tons of japonica rice, about one-eighth of Japan's total rice production. In addition, American rice farmers would have to spend considerable time and money to research Japan's market and consumers if they seriously intend to export their grains, he said.
"Japanese farmers have been doing that for a long time. It is questionable whether they would lose out that easily," he said, criticizing the farm ministry's tendency to underestimate the sector's potential.
"The biggest contradiction is that it is a ministry that promotes agriculture, and it has been supposedly making policies to that end. But the ministry is undermining its own efforts (through its TPP calculations)," he said.
If Japan does not join the TPP, other participants in the pact would freely trade their products and Japan would lose its international competitiveness, Asakawa said.
But if the nation does become a TPP member, it would present farmers with greater opportunities to export. High-quality Japanese produce, when sold abroad, fetch top prices and receive positive feedback, he noted.
Some farmers in fact support the TPP, viewing it as an opportunity for domestic agriculture to carry out drastic reforms as well as up exports.
"The agriculture industry would only be able to maintain its current production level for five years or so," said Kazushi Saito, a farmer who heads Shonai Kome Kobo, a Yamagata Prefecture-based firm that counts some 120 local rice farmers as investors. The firm sells their rice and studies ways to improve farming.
However, the average age of the farmers is about 65, and there are many aged 70 to 80 who do not have successors to work their land, so output will probably decline within five years, said Saito.
Like Asakawa, Saito believes the TPP would create export opportunities.
He said Japan may have a chance to sell rice to countries that grow the grain, including China and India, which could experience future shortages as their citizens' income, and hence consumption, rises.
"New rice exporting business opportunities are coming. I don't understand why many are opposing (the TPP)," Saito said.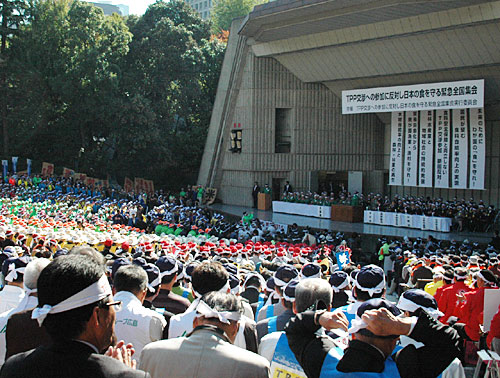 Still, other farmers doubt they will benefit from the pact.
"We'll have to think of exporting, but I feel only well-known premium rice (such as Koshihikari) would have a chance to survive international competition," said Osaaki Ikemoto, a 73-year-old rice farmer in Shiga Prefecture.
Ikemoto, who grows and sells rice in his prefecture, attended a rally in Tokyo on Wednesday to oppose Japan joining the TPP.
About 3,000 people, mostly from Japan Agricultural Cooperatives, attended the rally in Hibiya Park, voicing concerns the trade pact would destroy domestic agriculture.
Some experts said JA, a body with about 220,000 employees in fiscal 2008 that dominates farm product distribution and financing, is staunchly opposed to the TPP because its power would weaken once foreign products enter the domestic market, bypassing the co-op.
Asakawa said it would also be hard for JA to accept the trade pact because it fears many jobs would be lost in the agricultural sector if cheap imports enter the market.
Meanwhile, Shogenji of the University of Tokyo said he is still undecided as to whether Japan should join the TPP, as the issue surfaced abruptly when Prime Minister Naoto Kan suddenly mentioned his interest in October.
Instead of constructive debate, there are emotional arguments, he said. "There should be calm and considered discussion about how the TPP can possibly be an opportunity to improve the domestic farm sector," he said.
---