Trading health through IPR, patents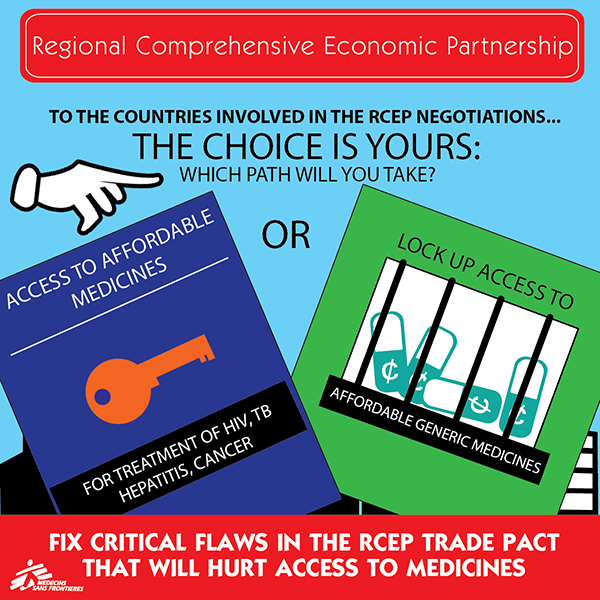 Deccan Herald | 14 July 2017
Trading health through IPR, patents
by Dr Gopal Dabade
World Health Organisation (WHO) chief Margret Chan, on the completion of her decade-long tenure as Director General (DG), welcomed the incoming DG. Most interestingly, new DG Tedros Gheybreysus hails from Ethiopia, and this is for the first time that someone from the African region has been elected since WHO's inception in 1948.
All this attracted much attention but what did not was when Chan in her farewell address said something very important: "The most contentious issue was access to medicines, especially when intellectual property rights (IPR) and the patent system were perceived as barriers to both affordable prices and the development of new products for diseases of the poor".
This came in the background that there are trade agreements between countries that will have a perceivable impact on access to medicines as a result of changes in patent and other national laws in different countries.
What are these trade laws? How will they impact access to medicines? What does all this mean to a common man? Prime Minister Narendra Modi visited the USA recently and met US President Donald Trump. During their discussions, one important agenda was that India should amend its patent law so as to suit the American drug manufacturing companies. Trump was under pressure by none other than four members of the Congress who wrote a letter to him bashing India's patent policies.
It is not just the USA but also the European Commission (EC) which is currently having trade negotiations with India which called a free trade agreement (FTA). It suggested India to make changes so that it will bring more profits to the big drug companies in Europe. But this will also seriously hamper access to medicines across the developing world.
All these negotiations are totally ignoring the important role played by affordable generic medicines manufactured in India. These trade negotiations will delay access to life-saving medicines and further strengthen the monopoly of the big drug manufacturing companies.
One clause that FTA is pushing for is Data Exclusivity (DE), which would delay the introduction of medicines at least by 10 years. The DE is protecting clinical trial data by original patent holder required to be submitted to the drug regulatory authorities to prove safety of the new drug. This prevents the generic drug manufacturers from using the data.
Given no option, the generic manufacturer will have to conduct clinical trials on a drug by themselves and this will mean delay in making the life saving medicines available to the needy. As per the DE, the original pat­ent holder is not to give the clinical trial to other generic drug manufacturing companies.
For example, a patent on Nevirapine syrup to treat children with HIV/AIDS was rejected. But if DE were to be in place, the patients would have to wait for 10 more years. Not just India but there are several examples in many parts of the world wherein countries that have adopted DE have faced increase in the cost of medicines.
Patents Act

Another agenda that is in the pipeline is diluting Section 3d of the Indian Patents Act, which restricts innovations that are only truly discoveries. "The impact of this proposed agreement is truly global as treatment will become considerably more expensive, and countries and funders may have to ration the number of people they can put on treatment", said Ariane Bauernfeind, HIV/AIDS programme manager for Doctors Without Borders projects in South Africa, Malawi, Lesotho and Zimbabwe. "The FTA threatens to make an already bad situation worse."
In addition, the FTA is pushing countries to increase the patent period from 20 years to a much longer duration. High levels of intellectual property protection can delay the market entry of generics, creating problems for access to medicines and thus threaten lives of many who need them most. Public health advocates have demonstrated that Vietnam's treatment coverage for people living with HIV/AIDS could drop to merely 30% of the population in need if it adopted a level of IP protection as recommended by the FTA.
Not just EC but there is also the Regional Comprehensive Economic Partnership (RCEP) which is another such trade agreement in the pipeline, which includes the 10 Asean countries besides six others including India. Both South Korea and Japan are pushing hard for a patent regimen whose term will be more than 20 years.
The next round of RCEP negotiations are planned in the last week of July in Hyderabad wherein all member countries would discuss trade rules. Needless to mention, there will be protests and marches condemning these trade negotiations by various pro-people organisations like farmers and trade unions.
Most unfortunately, the documents pertaining to these agreements are top secret and not discussed in parliaments. Perhaps, only the commerce minister may deal with it with a condition that it should not be made public. Whatever information that has been used by the activists is leaked documents. Also the documents are laced in a legal language that is often not easy to decipher.
The writer is President, Drug Action Forum – Karnataka

---