Trump signs trade deal with Canada and Mexico
All the versions of this article: [English] [français]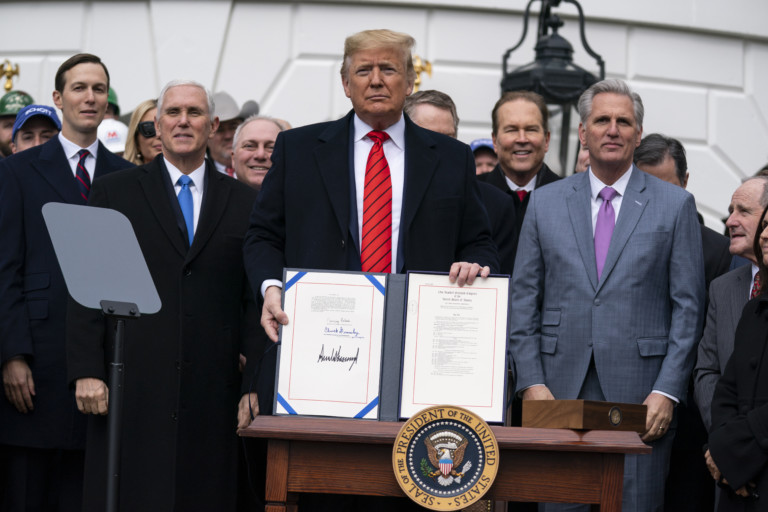 New York Times | 29 January 2020
Trump signs trade deal with Canada and Mexico
WASHINGTON — President Trump signed the revised North American Free Trade Agreement into law on Wednesday, fulfilling a key campaign promise and bringing more than two years of tumultuous negotiations over the continent's trade rules to a close.
The trade deal, now called the United States-Mexico-Canada Agreement, updates the quarter-century-old NAFTA, with stronger protections for workers and the digital economy, expanded markets for American farmers and new rules to encourage auto manufacturing in North America.
"Today we are finally ending the NAFTA nightmare and signing into law the brand-new U.S.-Mexico-Canada Agreement," Mr. Trump said during a signing ceremony at the White House.
"For the first time in American history, we have replaced a disastrous trade deal that rewarded outsourcing with a truly fair and reciprocal trade deal that will keep jobs, wealth and growth right here in America," he said.
The deal will restore certainty about the direction of the North American economy for the multitude of companies that depend on the rules to carry out their businesses. While the Trump administration reached an agreement with Canada and Mexico more than a year ago, it came after months of tense negotiations that included a threat by the president to leave Canada out of the deal completely.
And the agreement's fate remained in question for most of the past year, given concerns among congressional Democrats, whose support was needed to approve the pact, that the new deal had not included strong enough provisions related to labor, the environment and access to pharmaceuticals.
Through months of tough negotiations last year, Mr. Trump's trade advisers hammered out significant concessions that ultimately won over congressional Democrats, as well as the A.F.L.-C.I.O.
"What the president will be signing is quite different from what the president sent us," Speaker Nancy Pelosi, Democrat of California, said on Wednesday morning.
The deal constitutes an important political victory for Mr. Trump and his second trade win of the month. The president signed an initial trade pact with China at the White House just two weeks ago, giving him crucial talking points as he heads into his re-election campaign. While his deals with China and other countries like Japan and South Korea are smaller than traditional trade agreements, Mr. Trump will be able to claim that he has renegotiated trade terms with countries responsible for more than half of American trade.
The president wasted little time in touting the new North American trade deal, calling it a "colossal victory" for farmers and factory workers and the "largest, fairest, most balanced and modern trade agreement ever achieved."
Mr. Trump has long derided the original NAFTA, and he frequently threatened to rip it up entirely if Canada, Mexico or congressional Democrats would not agree to his new rules.
He came into office with an executive order drafted to begin the process of withdrawing from NAFTA and nearly signed it on several occasions. But more moderate advisers and business contacts repeatedly dissuaded the president from scrapping the deal.
The 26-year-old agreement, which was negotiated by the George Bush administration and signed into law by President Bill Clinton, has since become a political target, derided for encouraging American companies to move factories and jobs to Mexico.
Many economists have a more sanguine view of NAFTA's legacy, saying the deal provided a positive, if small, benefit to American wages and employment. It allowed industries to reorganize their supply chains around North America and take advantage of the differing resources and strengths of the three countries. The deal helped to more than triple America's trade with Canada and Mexico.
But the opening of borders has come at a cost. Some Americans, particularly those with less education, lost out as factories moved to Mexico, taking jobs with them.
Gordon Hanson, an economist at the Harvard Kennedy School, said studies have found that average incomes rose in all three countries as a result of the trade deal, though by a small magnitude. But the deal's benefits were very unevenly distributed around the United States.
"We can certainly find places where jobs are lost as a result of increased trade with Mexico, as well as places where jobs were gained as a result of increased trade with Mexico," Mr. Hanson said.
The government programs that were designed to help workers adjust to these changes proved to be a Band-Aid for a deep wound that never healed. As China's 2001 entry into the global economy accelerated the loss of American factory jobs, NAFTA became a potent symbol for labor unions, many Democrats and Mr. Trump of where American trade policy went wrong.
The Trump administration began its renegotiation of NAFTA in August 2017 with harsh words for Canada and Mexico, with the president's top trade adviser saying the pact had "fundamentally failed many, many Americans and needs major improvement."
Talks were initially expected to wrap up by the end of 2017, but negotiations lingered well into the next year as officials from all three countries scrabbled over issues like dairy-market access, federal-government contracts and systems for settling trade disputes. Business groups were alarmed by several of Mr. Trump's proposals, including the idea of injecting a "sunset provision" into the deal that could cause it to automatically expire.
The Trump administration also deployed hardball tactics with Canada and Mexico, placing tariffs on their steel and aluminum and threatening to tax their cars as well. In the final stages of negotiations, when the United States was at odds with Canada over issues like agriculture, Mr. Trump threatened to turn NAFTA into a bilateral deal with Mexico, leaving Canada out entirely.
At a meeting in Buenos Aires in November 2018, Mr. Trump joined the leaders of Canada and Mexico in signing the revised deal. But he still faced an uphill path to get the pact approved in Congress, particularly the Democratic-controlled House of Representatives.
"I hope he understands what he's signing today," Ms. Pelosi said at a news conference, holding up a fact sheet outlining the changes Democrats secured for labor, enforcement, environment and prescription drugs. "Just because he's the person signing it would not be a reason we would not do something good for the American people."
On Capitol Hill, Democrats sought to remind people that the pact would not have won overwhelming bipartisan support without their changes, particularly the updates to labor enforcement.
"The only reason that the president is having a signing today is because of what we did as Democrats," Representative Richard E. Neal of Massachusetts, the chairman of the Ways and Means Committee, said at an infrastructure news conference.
Some Democrats were quick to point out that the deal being celebrated by Republicans at the White House was far more in line with Democratic priorities than with traditional conservative ones.
"It actually kind of puts a smile on my face," said Representative Jimmy Gomez, Democrat of California, in an interview. "It's ironic. They're lauding the most progressive trade deal in the history of this country."
"They should send her a box of chocolates," Mr. Gomez said of Ms. Pelosi, who has a famous penchant for chocolate, particularly from California. "Dark. Ghirardelli."
The new trade deal faces one final hurdle before it can go into effect: It still needs to be approved in Canada.
Prime Minister Justin Trudeau's government's first action when Parliament resumed after an extended break on Monday was introducing legislation to carry out the trade pact, which it calls the Canada-United States-Mexico Agreement.
Because Mr. Trudeau's Liberal Party does not hold a voting majority in the House of Commons, the bill will require opposition support to pass. All three major opposition parties have various complaints. But many local and provincial politicians, labor and business leaders are calling for quick approval, making the legislation's defeat unlikely.
Chrystia Freeland, the deputy prime minister, urged the opposition parties to work with the government to pass the bill swiftly.
"This is a victory for all Canadians of every political persuasion and from all regions of our great country," she said in a news conference.
---