US envoy urges Taiwan to open market amid beef row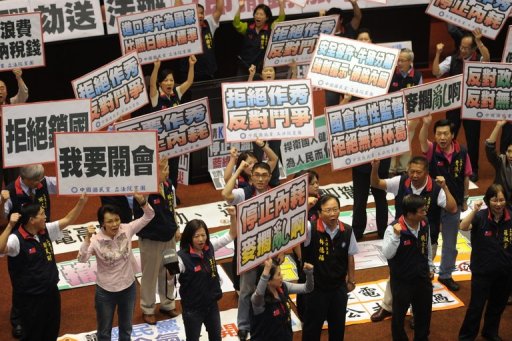 Agence France Presse \ 27.6.2012
US envoy urges Taiwan to open market amid beef row
TAIPEI — Washington's de facto ambassador to Taiwan on Wednesday urged the island to further open its market if it hopes to sign a trade deal with the US, amid a lingering dispute over American beef imports.
The US beef issue "has become the symbolic embodiment of Taiwan's protected markets," said William A. Stanton, director of the American Institute in Taiwan (AIT).
"For Taiwan to conclude a free trade agreement with the US it will need to undertake some dramatic changes, particularly in the area of opening markets to international competition," he said in a speech to the American Chamber of Commerce in Taipei.
Talks between Washington and Taipei on a Trade and Investment Framework Agreement (TIFA), often a precursor to a full-fledged Free Trade Agreement (FTA), have been dormant since 2007, due to the dispute.
Taiwan currently bans US beef containing ractopamine, which is used in animal feed to promote lean meat, although the government intends to remove the restrictions to facilitate trade talks with Washington.
However, the island's opposition parties recently organised a sit-in to block a parliamentary vote over the feed additive — a move Stanton warned was damaging to US-Taiwan ties.
The issue "has become a hostage to domestic political battles ... with opponents of US beef showing little regards apparently for the consequences for Taiwan's relationship with the United States," he said.
Stanton urged Taiwan to resolve the beef issue to show its commitments to trade liberalisation.
Taiwan's parliament is now expected to vote on the bill in an extraordinary session in July.
Taiwan, China and the European Union ban ractopamine because of possible human health risks, but 26 countries, including the United States, Canada, Australia and Brazil, have declared the product safe.
The AIT has represented US interests in Taiwan since Washington switched its diplomatic recognition from Taipei to Beijing in 1979.
---