US-Jordan free trade agreement descends into human trafficking
The National Labour Committee (New York)
U.S. Jordan Free Trade Agreement Descends Into Human Trafficking & Involuntary Servitude
Tens of Thousands of Guest Workers Held in Involuntary Servitude
May 2006
By Charles Kernaghan, National Labor Committee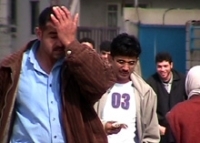 In the Western factory, which was producing for Wal-Mart, four young women, including a 16-year old girl, were raped by plant managers. Despite being forced to work 109 hours a week, including 20-hour shifts, the workers received no wages for six months. Workers who fell asleep from exhaustion were struck with a ruler to wake them up.
At the Al Shahaed factory, also producing for Wal-Mart, there were 24, 38 and even 72-hour shifts. The workers were paid an average wage of two cents an hour. Workers were slapped, kicked, punched and hit with sticks and belts.
In a factory called Al Safa, which was sewing garments for Gloria Vanderbilt, a young woman hung herself after being raped by a manager.
All across Jordan, tens of thousands of foreign guest workers, mostly from Bangladesh, China, India and Sri Lanka, are routinely forced to work 100-plus hours a week while being cheated of upwards of half the wages legally owed them. Any worker asking for their proper wages can be imprisoned.
Factory bathrooms lack toilet paper, soap and towels. Dorm conditions are primitive, often lacking running water three or four days a week. Any worker speaking one word of truth about the abusive factory conditions will be attacked and forcibly deported without any of the back wages due them.
Jordan's apparel exports to the U.S. are up 2000 percent between 2000 and 2005, reaching $1.1 billion, and these garments enter the U.S. duty-free. (Garments from Jordan go to Europe as well as the U.S.)
Jordan Report Sections
Cover Page & Acknowledgments
Contents
Al Shahaed Apparel & Textile: Wal-Mart & K-Mart
Western Factory: Do Any of Us Really Want a "Bargain" Based on Trafficking of Young Women into Involuntary Servitude?
Al Safa Garments:Sewing Clothing for Gloria Vanderbilt, Mossimo & Kohl's, Young Woman Raped - Hangs Herself
Action Plan: To Bring Supplier Plants in Compliance with Jordanian Law
Recruitment Ad for Star Garments
Jordan's Labor Law
Maintrend International:What does Latin pop star Thalia Sodi have in common with outdoor giant and purveyor of conservative values, the L.L. Bean Company? Human Trafficking & Involuntary Servitude.
China is The Big Winner in the U.S. - Jordan Free Trade Agreement
USAID Trains Business Manager of Jordan's Largest Free Trade Zone
Hi Tech Textiles:Wal-Mart & Gloria Vanderbilt
United Garments Manufacturing:Wal-Mart Behind the "Everyday Low Prices-Always" Are Women Cheated, Every Day
Pacific Garments:U.S.-Jordan Free Trade Agreement leads to tens of thousands of guest workers being cheated of their wages
Honorway Apparel Ltd: Wal-Mart, K-Mart, & J.C. Penney
Needle Craft: Women Beaten Sewing Clothing for Wal-Mart
Dragon Factory: Liz Claiborne: Even the Best Companies Sometimes Stumble
Ivory Garment: The Rat Pack: Faded Glory, Mossimo, & Gloria Vanderbilt
Al Nahat Apparels: Forced to Work 47 Hours of Unpaid Overtime Each Week!
Topaz Garments: Nightmare at the Topaz Factory in Jordan
Paramount Garment Factory: Labels Sometimes Flat-out Lie: ZeroXposure & Chestnut Hill
Al Aham Garments: New York Laundry caught in sweatshop scandal in Jordan
Mina Garments: Sewing Victoria's Secret Garments in a Hidden Sweatshop
Aseel Universal Garment: UAE Sweatshops in Jordan Producing Perry Ellis
Making the Case to compensate guest workers for back wages legally due them.
Southern Apparel: Producing for Wal-Mart
Centear Clothing: Another Wal-Mart Bargain
Caliber Garments: Producing for Wal-Mart & Gloria Vanderbilt
Sari Factory: Long History of Abuse At the Sari Factory: Faded Glory and Gloria Vanderbilt
Prestige Apparel: Sewing Clothing for Gloria Vanderbilt & Bill Blass
M.K. Garments: Another Gloria Vanderbilt Sweatshop
Petra Apparel: Producing for Wal-Mart & Gloria Vanderbilt
Fresh Taste Factory: Sewing Clothing for Gloria Vanderbilt
Atlanta Textiles: Dubai Sweatshop in Jordan Systematic and Extreme Violations
I-Texfil: Producing Mossimo for Target
Al Cap Factory: More Sweatshop Production for Gloria Vanderbilt
Al Tajamouat Industrial Park U.S.-Jordan Free Trade Agreement
Labor Rights Provisions of the U.S.-Jordan Free Trade Agreement Violated Systematically With Complete Impunity
Company Profiles
Download the full report (4MB PDF)
---