US pushing Seoul on trade amid tensions on Korean peninsula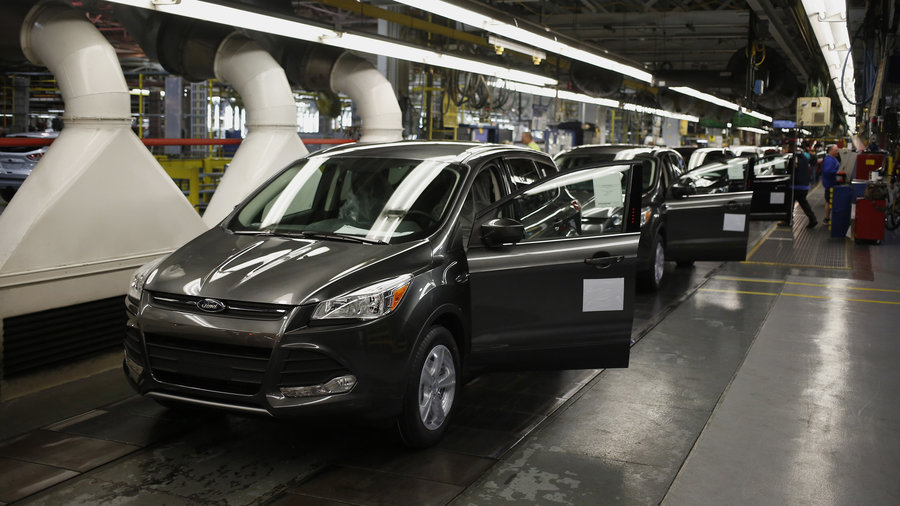 Bloomberg | 4 October 2017
US pushing Seoul on trade amid tensions on Korean peninsula

by Jiyeun Lee, Andrew Mayeda
Trump administration officials are set to push South Korea to buy more American cars and agricultural products even as tensions run high on the Korean peninsula.
The two governments will hold a second round of talks on Wednesday in Washington as part of U.S. Trade Representative Robert Lighthizer's request to consider amending the U.S.-Korea Free Trade Agreement. The petition, formally made in July, allows for a joint committee to hold so-called "special sessions" to discuss the five-year-old pact, which is known as Korus.
The first special session ended in stalemate in August, with the U.S. calling for revisions to the treaty and the South Koreans balking and instead proposing a study on the agreement's economic impact. The trade friction comes as the military allies try to find ways to increase strategic cooperation in response to an increasingly aggressive North Korea. President Donald Trump has threatened to withdraw from Korus if South Korea doesn't agree to terms that would reduce America's growing trade deficit with the country, though he hasn't made any concrete proposals.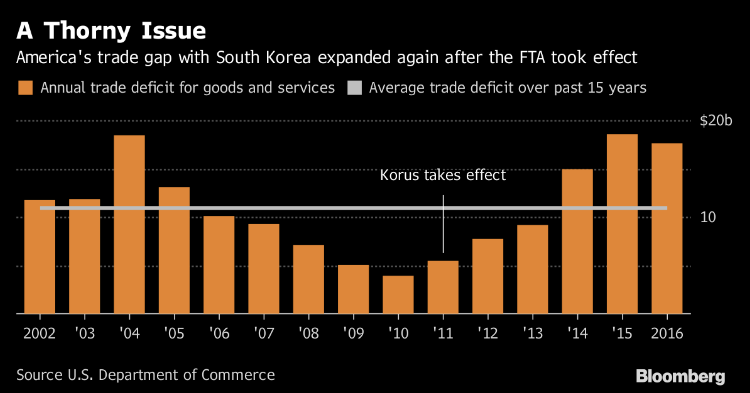 The South Korean government will put utmost priority on domestic interests in the talks, according to a statement released on Oct. 2 after officials including Trade Minister Kim Hyun-chong met in Seoul to plan for the negotiations. It has repeatedly said that Korus benefits both sides and improves access for industries in both nations.
"The two countries still need to find a way to get onto the same page," according to Troy Stangarone, senior director of congressional affairs and trade at the Korea Economic Institute in Washington. "Some of this will depend I think on how extensive the United States wants these changes to be. If these are simple, technical changes, these can be done simply. But if they're looking for more extensive types of changes, then that could raise other issues" and could require congressional approval.
The U.S. is South Korea's second-largest trading partner and this push to alter the deal comes at a difficult time for Seoul. Relations with its largest export market, China, have soured over the decision to allow the U.S. to deploy a missile shield south of Seoul, and there is no sign that North Korea or the U.S. are interested in trying to negotiate an end to the current tensions.
Autos Dispute
U.S. efforts to narrow its trade gap will probably focus heavily on the auto industry, meaning the administration may push to increase the number of American-made cars that can be sold in South Korea, Stangarone said. Currently only 25,000 cars that meet U.S. rather than Korean safety standards can be sold in the country, which is a source of tension considering the U.S. has an $18.8 billion trade deficit in vehicles.
The U.S. also could pressure South Korea to accelerate the reduction of agricultural tariffs, many of which are being phased out slowly over 10 years or longer, David Salmonsen, senior director at the American Farm Bureau Federation, told Bloomberg BNA.
---