US, South Korea to start talks Tuesday in Seoul on trade pact
All the versions of this article: [English] [français]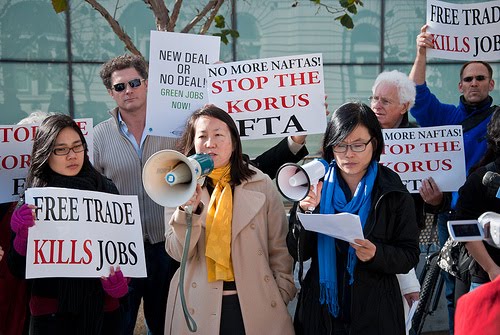 Reuters | 18 August 2017
US, South Korea to start talks Tuesday in Seoul on trade pact
The United States plans to start negotiations with South Korea on Tuesday in Seoul on amending a five-year-old free trade agreement, U.S. Trade Representative Robert Lighthizer said on Thursday.
Lighthizer announced plans on July 12 for the special session meeting of the Joint Committee under the U.S.-Korea (KORUS) Free Trade Agreement, months after U.S. President Donald Trump said he would either renegotiate or terminate what he called a "horrible" trade deal.
Lighthizer and South Korean Trade Minister Kim Hyun-chong will open the meeting via video conference, to be followed by senior-level talks between U.S. and Korean officials in Seoul, the U.S. Trade Representative's Office said in a statement.
"Since KORUS went into effect, our trade deficit in goods with Korea has doubled from $13.2 billion to $27.6 billion, while U.S. goods exports have actually gone down," Lighthizer said in the July statement.
"This is quite different from what the previous administration sold to the American people when it urged approval of this agreement. We can and must do better," he said.
Trump, in an interview with Reuters in April, blamed the trade deal on his 2016 Democratic presidential election opponent, Hillary Clinton, who as secretary of state promoted the final version of the agreement before its approval by Congress in 2011.
A South Korean trade official said in July that the joint committee meeting did not necessarily mean that South Korea will renegotiate the deal.
"We will meet and discuss mutual interests and concerns. Our stance is that we have not agreed on renegotiation of the deal," Yeo Han-koo of South Korea's trade ministry told Reuters by phone.
He said South Korea believes the deal is mutually beneficial, and the two countries need to first establish whether the U.S. trade deficit with South Korea is caused by the trade deal or is a result of other fundamental economic issues.
On July 1, Trump met South Korean President Moon Jae-in and said the United States was renegotiating what he characterized as a "rough" trade deal with South Korea agreed to five years ago by his predecessor, Barack Obama.
KORUS was initially negotiated by the Republican administration of President George W. Bush in 2007, but that version was scrapped and renegotiated by President Barack Obama's Democratic administration three years later.
---