US to open trade talks with Japan, EU, UK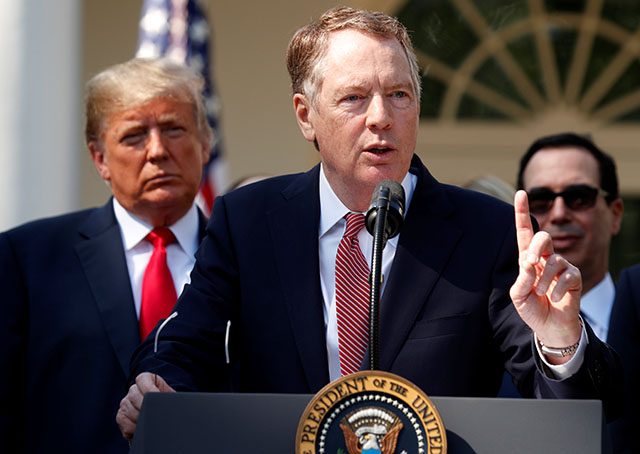 The Hill | 16 Oct 2018
US to open trade talks with Japan, EU, UK
By: Niv Elis
The Trump administration on Tuesday kicked off a fast-track process for three separate trade deals with Japan, the European Union and the United Kingdom.
In three letters, United States Trade Representative Robert Lighthizer notified Congress of the intent to open the trade talks. Trade in goods and services with the three tops $1.5 trillion.
"Under President Trump's leadership, we will continue to expand U.S. trade and investment by negotiating trade agreements with Japan, the EU and the United Kingdom," Lighthizer said.
The announcement allows talks to formally open after a 90-day period, but Lighthizer said the UK negotiations would only begin after Britain finalizes its extrication from the EU. The deadline for the so-called "Brexit" is March 29.
President Trump's aggressive trade policy has taken a central role in his economic agenda.
After scrapping the Trans-Pacific Partnership, a 12-country trade deal negotiated under the Obama administration, Trump moved to impose controversial tariffs on a series of trading partners, including China.
Trump has argued that the tough approach would lead to better deals for the United States, and his strategy appeared to bare some fruit in October when Canada joined Mexico in agreeing to update the North American Free Trade Agreement (NAFTA), which Congress must approve.
In July, European Commission president Jean-Claude Juncker agreed to freeze the tit-for-tat tariffs between the United States and European Union and move toward new trade negotiations.
But the new tariffs remain in place, a problem business groups say may put a dent in the strong recent economic growth. Negotiations with China have broken down, leaving tariffs in place on over $200 billion of goods.
Tuesday's notices follow a 2015 law governing Trade Promotion Authority (TPA), which require the administration to notify Congress ahead of new trade talks opening. TPA will also require the administration to publish trade objectives for the deals 30 days ahead of the new negotiations.
"TPA guarantees that Congress and the administration will work hand-in-hand so that new trade pacts achieve the high-standards necessary to advance and safeguard U.S. interests and ensure continued economic growth," said Senate Finance Committee Chairman Orrin Hatch (R-Utah).
Democrats also welcomed the news, but said that the new deals should tackle additional priorities.
"The administration must take the time to tackle trade barriers comprehensively, including using this opportunity to set a high bar in areas like labor rights, environmental protection and digital trade, in ways that actually benefit American workers and businesses," said Senate Finance Committee Ranking Member Sen. Ron Wyden, (D-Ore.).
---