US to seek currency chapters in trade talks with Japan, others: Mnuchin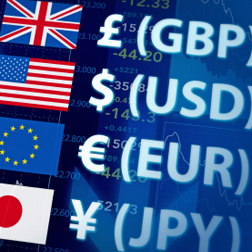 Reuters | October 14, 2018
U.S. to seek currency chapters in trade talks with Japan, others: Mnuchin
David Lawder, Leika Kihara
NUSA DUA, Indonesia (Reuters) - U.S. Treasury Secretary Steven Mnuchin said on Saturday that Washington wants to include a provision to deter currency manipulation in future trade deals, including with Japan, based on the currency chapter in the new deal to revamp NAFTA.
United States Secretary of the Treasury Steven Mnuchin speaks during an interview with Reuters at the International Monetary Fund - World Bank Annual Meeting 2018 in Nusa Dua, Bali, Indonesia, October 12, 2018. REUTERS/Johannes P. Christo
The remark drew concern in Japan, where local media ran front-page stories questioning whether this would give Washington the right to label as currency manipulation any future foreign exchange market interventions by Tokyo to keep sharp yen rises in check.
The yen is often regarded as a "safe-haven" currency in Asia, attracting capital inflows during times of market distress that can spike its value for short periods, hurting exports.
Mnuchin told reporters at the International Monetary Fund and World Bank annual meetings in Bali that Washington views the currency chapter in the new U.S.-Mexico-Canada Agreement (USMCA) as a model for future trade deals to deter trading partners from currency manipulation.
"Our objective would be that the currency issues ... We'd like to include (them) in future trade agreements. With everybody. I'm not singling out Japan on that," Mnuchin said, when asked whether the United States will discuss currencies in trade negotiations with Japan.
"We haven't had specific conversations on that. We obviously continually have conversations with my counterparts about currency. But that is the model we'd like to incorporate going forward," he said.
Mnuchin has criticized China for recent declines in the yuan's value, and said Washington also wants to make currency issues a central part of any talks to resolve the U.S.-China trade conflict.
Japan's Economy Minister Toshimitsu Motegi, who oversees trade talks with the United States, said on Sunday he had so far made no discussions on currencies with his counterpart, U.S. Trade Representative Robert Lighthizer.
"If discussions on this subject become necessary, they will be made by the finance ministers of both countries," Motegi said in a television program, in response to Mnuchin's remark.
U.S. President Donald Trump and Japanese Prime Minister Shinzo Abe agreed in September to start trade talks in an arrangement that, for now, protects Japanese automakers from further tariffs.
Along with fears of being slapped with higher tariffs on its auto exports to the United States, Japan worries about having its hands tied on addressing sharp yen rises that hurts its export-reliant economy.
Trump in the past has criticized the Bank of Japan's ultra-easy monetary policy, saying it was aimed at weakening the yen, a claim the central bank dismisses.
NEW NAFTA CURRENCY CHAPTER
Democrats in the U.S. Congress have long called for enforceable currency provisions in trade deals and were disappointed in 2015 when one was not included in the Trans-Pacific Partnership trade deal, which President Donald Trump abandoned last year.
In the Sept 30 deal to revamp the North American Free Trade Agreement, the United States, Canada and Mexico agreed to "avoid manipulating exchange rates or the international monetary system in order to prevent effective balance of payments adjustment or to gain an unfair competitive advantage."
The United States has not complained about Canada's and Mexico's free-floating currencies, but sought the chapter to deter manipulation in future trade deals.
The USMCA requires the three countries to disclose monthly data on international reserve balances and intervention in foreign exchange markets, along with quarterly balance-of-payments data and other public reporting to the International Monetary Fund.
China's exports surge to record surplus with US despite tariffs
Each of the three countries will be represented on a monetary committee that will meet at least annually to monitor the chapter's implementation. If one party believes another is in violation of the pact, it can initiate bilateral consultations and the IMF can be invited to mediate disagreements.
Ultimately, they can turn to the USMCA's country-to-country dispute resolution mechanism if the dispute cannot be resolved bilaterally.
Additional reporting by Kazuhiko Tamaki in Tokyo; Editing by Muralikumar Anantharaman
---