Venezuela, Gold Reserve to settle arbitration dispute with joint venture
All the versions of this article: [English] [Español]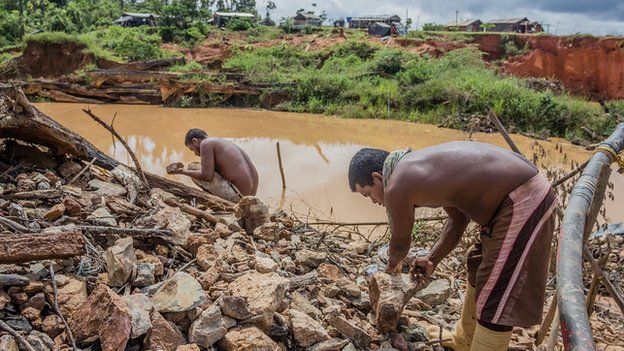 Reuters | 24 February 2016
Venezuela, Gold Reserve to settle arbitration dispute with joint venture
By Alexandra Ulmer and Girish Gupta
Venezuela and Canadian mining company Gold Reserve signed a memorandum of understanding on Wednesday to settle a protracted arbitration dispute over a gold concession through creation of a joint venture in the South American country.
The deal would see Venezuela and Gold Reserve, which were embroiled in a dispute over the termination of the company's Las Brisas gold concession in 2009, jointly exploit the Brisas and Las Cristinas mines, President Nicolas Maduro said.
The deal's fine print was not immediately clear, although Venezuela said the deal would result in a $2 billion dollar loan for the crisis-hit country.
Gold Reserve's president, Doug Belanger, told Reuters that Venezuela would likely use the mining property as collateral to obtain financing.
The small Canadian miner will receive compensation as part of the deal, Belanger added, although declining to give estimates for compensation or investment.
"We're in agreement to settle. We will be receiving a payment," Belanger said after the signing ceremony in Caracas on Wednesday night, adding a final settlement was expected soon.
ARBITRATION DISPUTES
Gold Reserve was awarded around $750 million by the International Center for Settlement of Investment Disputes for the 2009 termination of its Las Brisas concession.
The company and Venezuela had been in a dispute over the payment, which accrues interest.
Other international companies, including oil majors Exxon Mobil Corp and ConocoPhillips, are seeking compensation for nationalizations under the late president, Hugo Chavez.
Venezuela's government celebrated the deal on Wednesday, saying it would boost investment in the country and proved its willingness to negotiate.
"It's the resolution of a conflict," Maduro said during a speech in which he announced other mining deals to certify Venezuela's gold reserves, which he said could be the world's second biggest. "Now we are partners."
Oil Minister Eulogio Del Pino added Gold Reserve would have a 45 percent stake in the joint venture, with the remaining 55 percent going to the state.
"(This agreement) demonstrates this country's responsibility toward international investors," said Del Pino, amid worries on Wall Street that Venezuela may default on its debt or seek to avoid hefty arbitration payments.
Sources told Reuters earlier on Wednesday that the country had the funds to pay $1.5 billion due on Friday on its Global 2016 bond.
---