Wang Yi calls for speedy free trade agreement with Norway
All the versions of this article: [English] [français]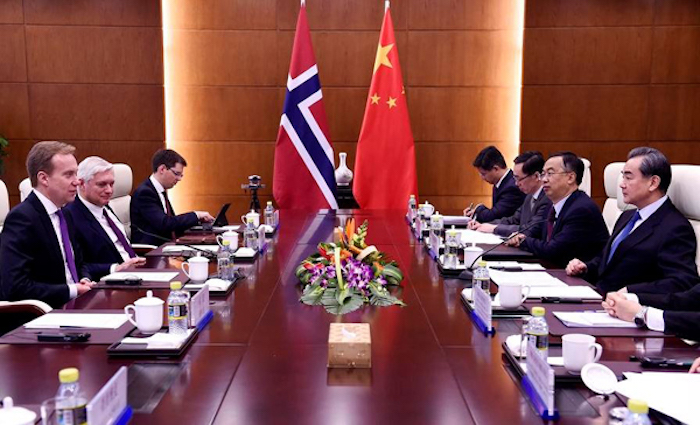 CGTN | 28 August 2020
Wang Yi calls for speedy free trade agreement with Norway
Chinese State Councilor and Foreign Minister Wang Yi called for an acceleration in free trade talks with Norway as he concluded a visit to the country.
After meeting Norwegian Prime Minister Erna Solberg and Foreign Minister Ine Soreide on Thursday, Wang hailed China's relationship with Norway and called for both sides to build on their partnership.
"Given the impact of COVID-19, early completion of the China-Norway FTA negotiations is of great significance to the bilateral economic relations and trade as well as to the efforts to keep the global supply chain open and connected," he said at a media briefing with Soreide. "The two sides need to speed up the negotiation and bring it to an early conclusion."
The Chinese market is of particular importance to Norway's powerful fishing industry, which has been hard hit by the coronavirus pandemic.
Wang said that in-person meetings between Chinese and Norwegian officials have not only shown that both sides are confident in defeating the pandemic, but also that China and Norway are ready to gradually resume cooperation and exchange of personnel.
He said that the Chinese side was ready to support the trade, while ensuring food safety standards were upheld.
He also highlighted opportunities on other maritime matters, including conservation and sustainable use of resources, culture, a taxation agreement and winter sports.
With Norway set to join the United Nations Security Council as a non-permanent member, Wang stressed the necessity for international rules-based cooperation, a point supported by Soreide.
The Norwegian government has underlined strengthening cooperation with China, especially on maritime issues and coronavirus vaccine research and development.
Both the prime minister and the foreign minister expressed their hope that a free trade agreement between China and Norway can be reached as soon as possible.
Upholding multilateralism
Both sides also agreed on championing multilateralism and free trade as both are opposed to unilateralism and protectionism.
"In every country that I visit the biggest consensus that I reach with my counterparts is the need to uphold multilateralism," Wang said. "Multilateralism concerns the very survival of countries, particularly smaller and medium sized countries" and without it, the world would return to a "law of the jungle," he warned.
Soreide said that Norway has consistently supported multilateralism and global free trade to preserve the international order.
In the face of mounting global uncertainty, Norway is willing to cooperate more with China and other members of the international community, she said.
China committed to opening-up strategy
The Chinese foreign minister also reiterated China's commitment to its opening-up strategy, citing President Xi Jinping's words at a symposium on Monday with economists and scholars in Beijing.
Xi, also general secretary of the Communist Party of China (CPC) Central Committee, stressed at the symposium the need to create a new development pattern whereby domestic and foreign markets can boost each other, with the domestic market as the mainstay.
The policy stance has sent a signal to the world that despite the COVID-19 fallout, the door of China's opening-up will not close, but will open only wider to the world, Wang said.
China welcomes the participation of European countries including Norway in China's new round of opening-up in terms of expanding cooperation in trade, investment and other areas, he added.
Wang also visited Italy and the Netherlands this week and he heads to France on Saturday.
---