WikiLeaks alleges widespread US spying on Japanese government, major companies
All the versions of this article: [English] [français]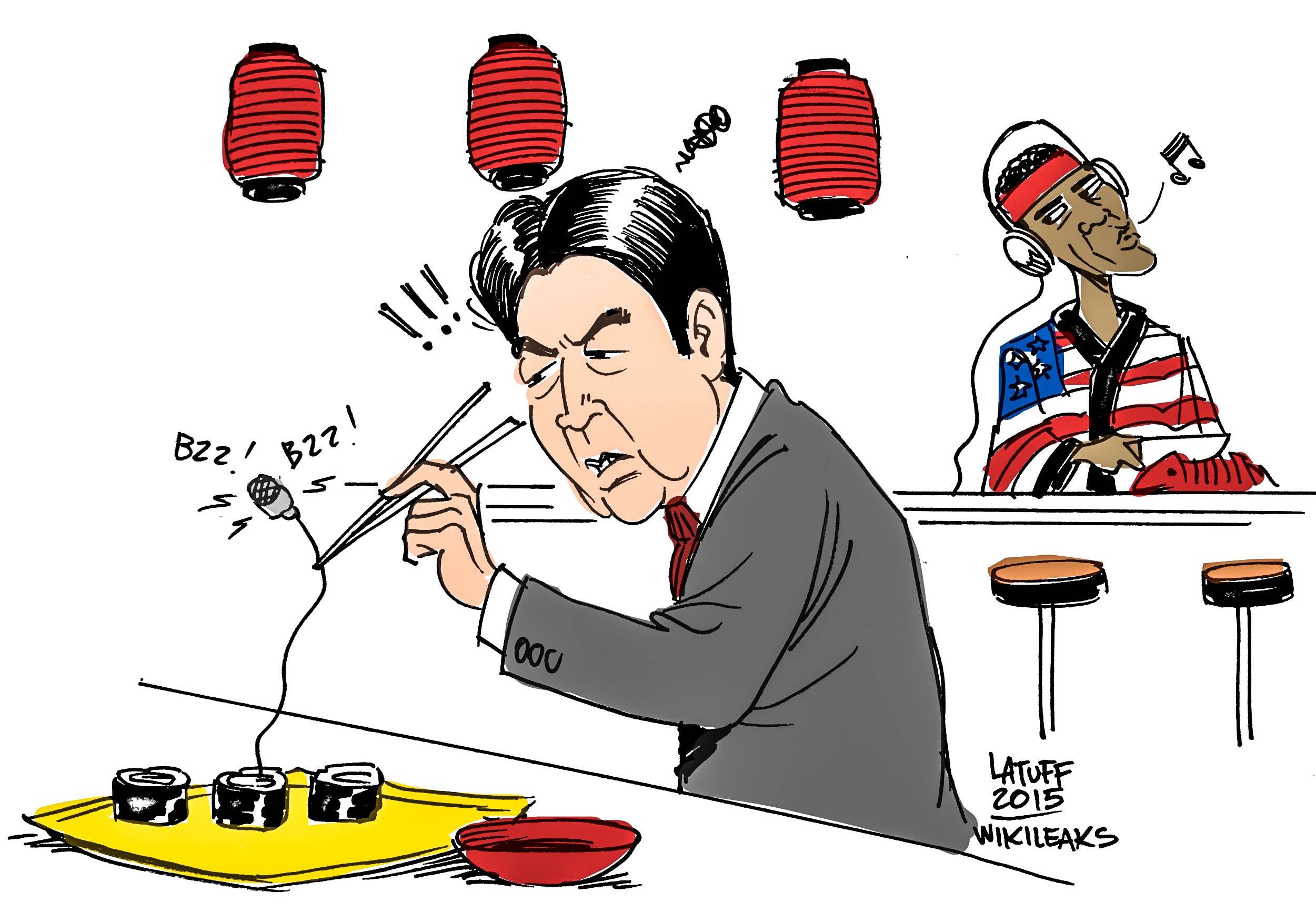 Japan Times | 31.7.2015
WikiLeaks alleges widespread US spying on Japanese government, major companies
By Jesse Johnson
Staff writer
Anti-secrecy group WikiLeaks released a trove of documents Friday titled "Target Tokyo" detailing alleged U.S. National Security Agency's snooping on the Japanese government and businesses — just as negotiators from 12 nations, including Japan and the U.S., hope to wrap up the Trans-Pacific Partnership.
In a press release, WikiLeaks claimed to publish a tranche of what appeared to be four NSA reports marked top secret that reveal Japanese talks on climate change issues and international trade.
"In these documents we see the Japanese government worrying in private about how much or how little to tell the United States . . ." WikiLeaks founder Julian Assange said in an accompanying statement.
One of the reports appears to note that it was shared with the United States' "Five Eyes" intelligence partners, a grouping comprised of Australia, Canada, the U.K. and New Zealand.
"The sense that Japan is being sidelined in favor of other allies will hurt, and will not be something that (Prime Minister Shinzo Abe) will be able to deflect easily," said John Swenson-Wright of the Chatham House think tank in London.
Included in the tranche were what appeared to be 35 NSA targets for telephone intercepts in Japan, including the switchboard and officials working at the Cabinet Office, the executive secretary of the chief Cabinet secretary's office and a line listed in the release as "Government VIP Line."
Numerous other bureaucrats appeared to have been on the list, including officials from the Bank of Japan, the Finance Ministry and the trade ministry.
The natural gas division of Mitsubishi and the petroleum division of Mitsui & Co. were also mentioned.
The published documents purport to show that the snooping extended back to at least Abe's first term as prime minister, between September 2006 and September 2007.
WikiLeaks' release of the tranche comes as the U.S., Japan and 10 other nations are working to iron out their differences for participation in the TPP free trade pact.
The officials had planned to announce the outcome of the trade talks at a joint news conference planned for Friday afternoon, but WikiLeaks' revelations could throw a wrench into those plans.
According to the documents, the U.S. had gleaned intimate details of internal Japanese deliberations on trade-related issues, including agricultural imports and trade disputes and positions.
The spying provides "serious insight into the goings-on of the government," said James Simpson, a Tokyo-based defense analyst and contributor to Jane's Defence Weekly.
"Japan is going to be horrified to see (news of the leaks) entering the public domain," Simpson added.
Nevertheless, he said, "the Japanese government sees the TPP in a much bigger, multilateral sense. There won't be any major changes."
---