Wisconsin group asks Obama to nix Pacific free trade agreement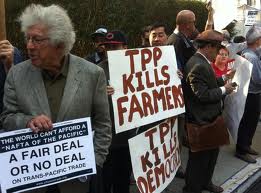 Wisconsin Public Radio | 7.2.2013
Wisconsin group asks Obama to nix Pacific free trade agreement
By PATTY MURRAY
A Wisconsin advocacy group says the state has lost thousands of jobs due to free trade agreements. It is now pressuring President Obama to oppose a new agreement that would take down trade barriers between the United States and countries around the Pacific Rim.
It was more than twenty years ago when then-presidential-candidate Ross Perot warned of a "giant sucking sound" that would take American jobs south, due to the North American Free Trade Agreement.
The Wisconsin Fair Trade Coalition says those job losses have come to fruition. The Coalition's president is David Newby. He says nearly 3,000 Wisconsin jobs were sent off shore just last year.
NAFTA was ushered in under President Clinton. Now, Newby says, President Obama is poised to voice support for another agreement during next week's State of the Union address. "Some of the countries involved in the Trans Pacific Trade Agreement — namely Vietnam and Malaysia — are already marketed as low-cost-labor alternatives to China."
The Trans Pacific Agreement would also involve countries like Singapore, Australia, and Vietnam.
Newby says Wisconsin has lost the fifth most jobs nationwide due to offshoring. Now, he says, white collar jobs are on the line in banking, research and development, and healthcare.
"So increasingly we're also seeing engineering jobs and other high end professional jobs that're associated with production, manufacturing moving to these countries. So we're really hollowing out our entire manufacturing base."
The Wisconsin Fair Trade Coalition says thousands of union jobs have been lost in Wisconsin as a direct result of NAFTA...either by companies being fiscally pressured to move jobs off shore, or going out of business.
---