With Brexit in the horizon, Cambodia hopes for UK trade deal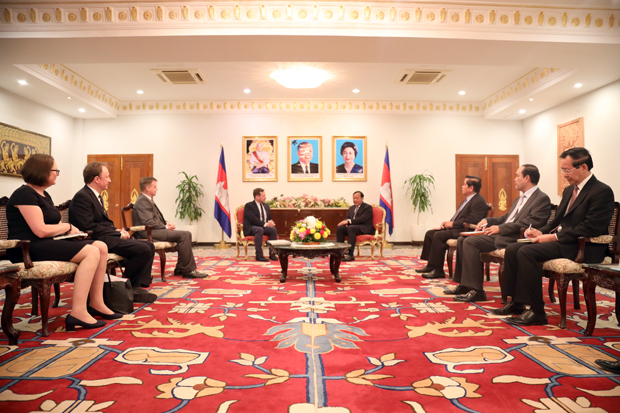 Khmer Times | 15 February 2018
With Brexit in the horizon, Cambodia hopes for UK trade deal
by Chea Vannak
Cambodia is seeking a free trade agreement (FTA) with the United Kingdom, in a move to ensure that bilateral trade remains robust once the UK officially leaves the EU.
In a meeting on Tuesday with Edward Vaizey, a member of the UK parliament on an official visit to the kingdom, Pan Sorasak, the Minister of Commerce, expressed his desire to strengthen bilateral trade through an FTA.
"Once the UK leaves the EU, we must ensure that we don't lose the trade preferences we now have under the Everything-but-arms agreement with the EU," Mr Sorasak told Mr Vaizey.
Seang Thay, spokesman for the Ministry of Commerce, said the possibility of signing an FTA is now being discussed.
"We don't know when the FTA will be signed," Mr Thay said. "We are negotiating."
Earlier this week, Mr Vaizey also met with the Cambodian Minister of Foreign Affairs Prak Sokhonn, where the issue of a bilateral trade pact also came up.
Last year, bilateral trade between Cambodia and the UK was valued at $1.03 billion, with Cambodian exports accounting for $1.01 billion.
---