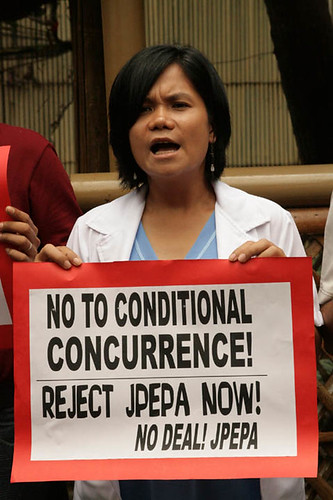 The governments of Japan and the Philippines reached a basic political agreement on the Japan-Philippines Economic Partnership Agreement (JPEPA) on 29 November 2004 at the ASEAN Summit in Laos. The agreement was then signed in Helsinki on 9 September 2006 and came into force on 11 December 2008. It was the Philippines' first free trade agreement and Japan's fourth.
JPEPA was and remains hugely controversial. Filipinos — and on some issues, Japanese groups — mobilised to stop the deal for many reasons, including the following:
– the small job market openings for Filipino healthcare workers are very limited (the workers must learn Japanese, undergo equivalency exams, stay for only a restricted time etc) and overlook the real potential for abuse of Filipino workers in Japan;
– concerns that Japan will gain access to and be able to overfish Philippine waters, ruining the livelihoods of small fisherfolk;
– any supposed benefits for increased pineapple and banana exports to Japan would in fact go to corporations like Dole and Del Monte, and their local business partners, who own and run the plantations in the Philippines — not to small or landless Filipino farmers;
– its unconstitutionality, since JPEPA allows Japanese corporations to own land, operate schools and practice certain professions in the Philippines which the Philippine Constitution does not allow;
– the huge imbalances in the deal, e.g. Japan excluded almost 200 tariff lines from the agreement, the Philippines only six; and
– the fact that JPEPA gives explicit legal ground for Japan to dump toxic wastes in the Philippines.
last update: May 2012
Photo: Karasantos / CC BY-NC-SA 2.0
Links

---

Multisectoral effort to defeat an unfair and environmentally unjust bilateral trade agreement with Japan