3rd international conference TTIP and CETA-free zones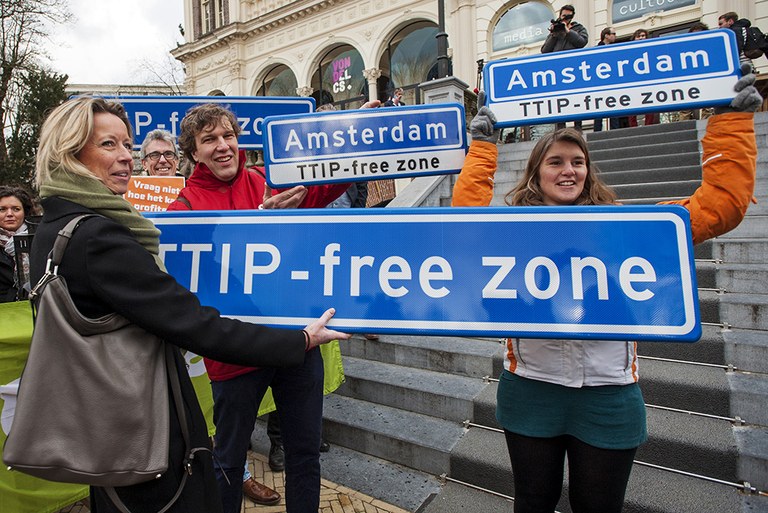 Not Without the Municipalities | March 2019
3rd international conference TTIP and CETA-free zones
The mayor of Borgerhout-Antwerpen, Marij Preneel, supported by the mayors organising the previous meetings in Barcelona and Grenoble, invites mayors, local councilors and other representatives of local authorities as well as civil society representatives to the 3rd international meeting of TTIP and CETA-Free Zones in Borgerhout-Antwerpen on March 29 and 30 – working title: "Local authorities, commons and free trade agreements".
More than 2000 cities and local authorities in Europe came out against TTIP and CETA. Local authorities are a central part of the resistance against harmful trade agreements and ISDS and they are also among the most affected.
CETA has been ratified by the EU institutions without taking into account our reservations, while TTIP and TiSA, and other trade agreements are on the hold for the moment. Yet the European Commission has indicated its interest to continue negotiations, and the European Commission also negotiates more than 30 similar agreements, such as the EU-Trade Agreement with Japan (JEFTA – signed lately), with MERCOSUR, with India or an investment agreement with China, among others, and attempts to save the flawed system of private investment arbitration ISDS by planning for a new Multilateral Investment Court (MIC). All such treaties will have a profound impact on the decisions that local authorities can take in order to maintain their obligation and right in shaping their local communities.
We the undersigning mayors invite you therefore to join us in Borgerhout-Antwerpen to discuss how the already implemented trade and investment agreements affect local decision making processes, and what strategies can be followed by local authorities to oppose and finally stop those trade agreements, as well as the private dispute settlements which turn out to object regulations of general interest.
At the same time it is the local level where alternatives are implemented and where hope for a different economic model lies. We therefore want to use the opportunity to exchange our experiences in protecting and expanding our commons, advancing alternatives in collaboration with civil society and foster our network.
Marij Preneel, mayor Borgerhout-Antwerpen
Ada Colau, mayor Barcelona
Eric Piolle, mayor Grenoble
---