40,000 against the KORUS FTA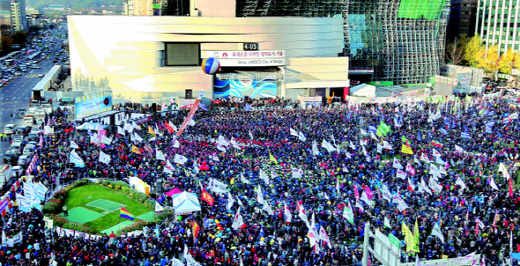 The Hankyoreh | 14 Nov 2011
40,000 against the KORUS FTA
Tens of thousands of laborers hold a "Nationwide Workers' Rally" hosted by Korea Confederation of Trade Unions (KCTU) at Seoul Plaza in front of Seoul City Hall, Nov. 13. KCTU announced that there were approximately 40,000 participants in the rally with the far-reaching implications of the FTA, and that the rally was the largest over last six years since the Nationwide Worker's Rally in 2005 (50,000 participants) 
On Nov. 13, multiple protests by workers and citizens were held at places in Seoul urging solidarity amongst the "99% standing against 1% of capitalism," and opposing the South Korea-U.S. Free Trade Agreement (KORUS FTA).
The participants promoted resistance to the KORUS FTA, solving problems of low wages and irregular workers, a complete revision of labor laws, and securing respect for laborers and people's welfare through victory in the general and the presidential elections in 2012.  
After the rally at Seoul Plaza ended around 6 p.m., a candlelight vigil demonstration was held, which was hosted by Nationwide Movement against KORUS FTA. An estimated 2,500 individuals participated in the candlelight vigil demonstration according to the host, and the event ended around 8 p.m. without a clash with the police.
"If KORUS FTA is ratified, there will be increase in the number of temporary jobs and taxpayer's money will be wasted at unnecessary places such as invest-state dispute (ISD) settlement."
A worker surnamed "Deoh" who participated in the candlelight vigil demonstration after hearing about it through the popular podcast, "I Am a Sneak," said, "These problems will lead to consequences for the taxpaying citizens of this country."
(Photo by Lee Jung-a, Translated by Kim Joon-ki, Intern)
---