About 200 in protest over Malaysia-US free trade deal
Agence France-Presse | 14 March 2007
About 200 in protest over Malaysia-US free trade deal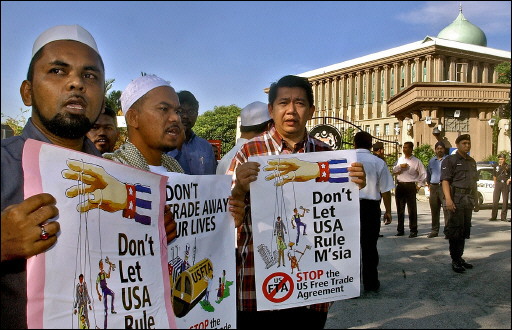 KUALA LUMPUR (AFP) — About 200 people opposed to a free trade agreement (FTA) with the United States gathered for a rare protest outside the Malaysian prime minister's office Wednesday, demonstrators said.
"It was a noisy protest lasting up to about 90 minutes," said V. Selvam, of the Malaysian Trades Union Congress.
He estimated the crowd at 200, mostly farmers from the country's rice bowl in northern Kedah state.
They shouted "No to FTA, no to FTA with America," he said.
The group also included non-government organisations and opposition political parties, said another demonstrator, Ahmad Sabki Yusof, national youth secretary of the Islamic party, PAS.
He said they gathered outside the office of Prime Minister Abdullah Ahmad Badawi in Putrajaya, south of Kuala Lumpur.
A delegation of six people conveyed their message in a memorandum handed to a government official, Selvam said.
Malaysian farmers, activists and opposition parties have been demanding a halt to the talks on an FTA, which they say will damage livelihoods.
Demonstrations are rare in Malaysia and even rarer at the Putrajaya seat of government, where access is more difficult.
Selvam said police watched the protest but did not intervene.
Dozens of activists last month held a peaceful protest outside the US embassy in Kuala Lumpur to call for an end to FTA negotiations with the United States.
The two countries have held five rounds of talks but negotiations have bogged down over 58 unresolved issues and no further rounds have been scheduled.
Trade Minister Rafidah Aziz has said sensitive or "no-go" issues, including Malaysia's positive discrimination policies for its majority ethnic Malays, would be excluded from the next round of talks.
---