Activists demand Trade Democracy at the site of Peterloo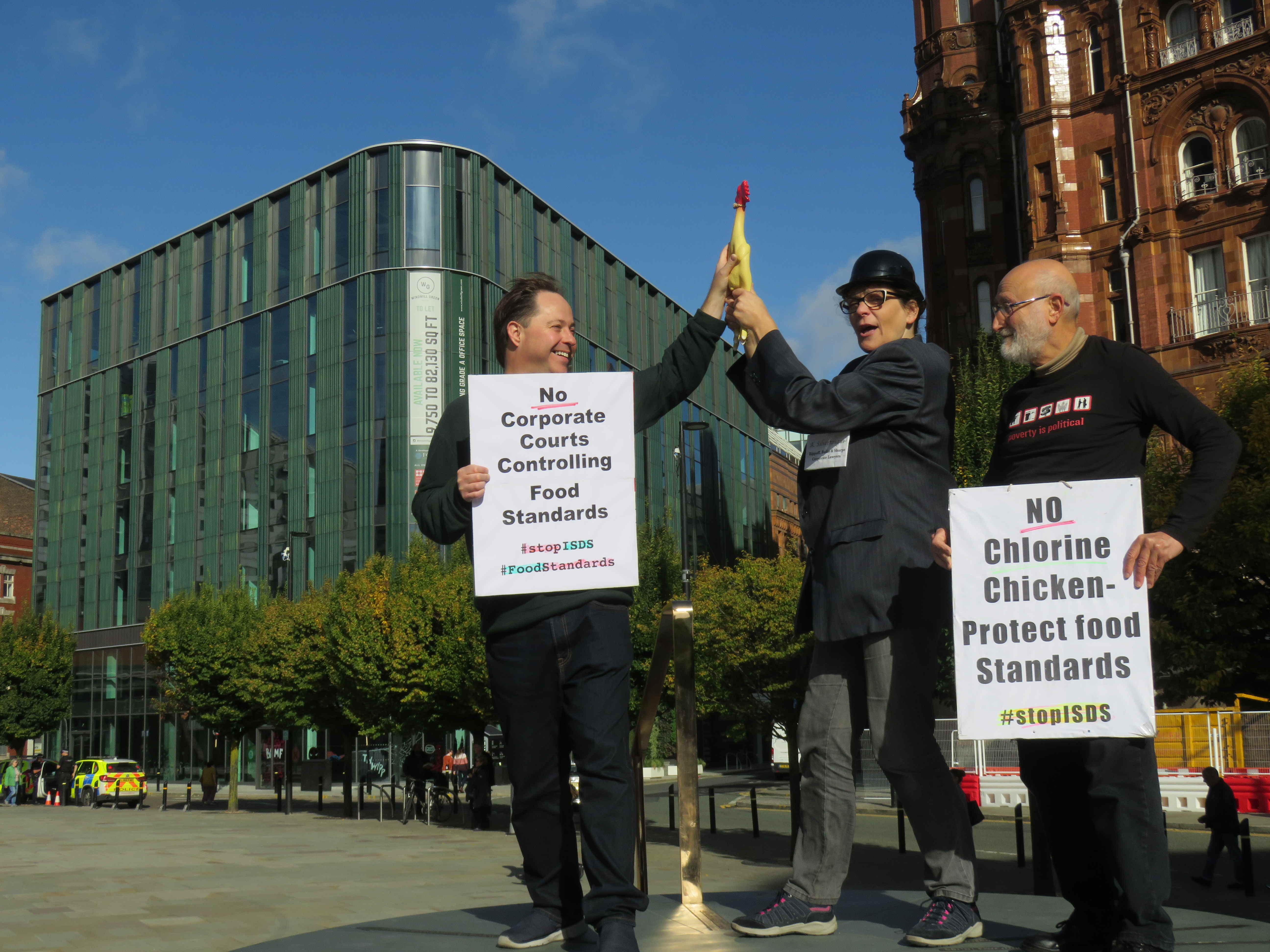 200 years ago, democracy activists died on St. Peters' Fields, Manchester, while peacefully campaigning for the vote. Known as the Peterloo massacre, in a bitterly ironic comparison to the military victory at Waterloo, the incident is an important event in the struggle for democracy.
On the bicentennial of the massacre, pro-trade activists from GMTAN and Global Justice Manchester protested against the threat to democracy from the corporate court system. The protest was part of an international week of action demanding rights for people and rules for corporations.
The British Conservative Government is believed to be secretly negotiating secretly to extend the reach of these courts, in planned post-Brexit trade deals. Despite the promise that Brexit will deliver greater autonomy and independence to the UK, we are simultaneously threatened by a system which can override British law in a way that Brussels bureaucrats could only dream of.
Known under various names, such as ISDS and ICS, the courts are only available to trans-national corporations, which can use them to sue governments, if they don't like the laws that the latter have passed. Protestors played the part of conniving politicians and unaccountable corporate lawyers. who arbitrate in unbalanced and unaccountable tribunals where their decisions override national law. The courts, which are found in hundreds of international trade agreements, have been described by Professor Joseph Stiglitz (Nobel Laureate and former Senior Vice President and Chief Economist, World Bank and visiting Professor of Economics at Manchester University) as 'litigation terrorism'.
The courts severely undermine attempts to address such important issues as the climate crisis, health and safety regulations, working conditions and human rights. They may also contribute to the further privatisation of the NHS and other public services, making privatisation irreversible without massive penalty payments in compensation for 'loss of potential profits'. Also threatened will be the ability of local and national government to support small and medium sized businesses, 15.6m - 60% of all private sector employees in the UK. Nick Dearden of Global Justice Now said:
"Modern free trade deals put the "rights" of investors and corporations ahead of our need to tackle climate change, or to favour small, local production over big, corporate production. Through corporate courts, big business is given a special legal route to challenge environmental policies. Big oil, gas and mining companies regularly use corporate courts to bully governments, as we saw recently in Armenia."
---