AFL-CIO blasts U.S. on auto trade talks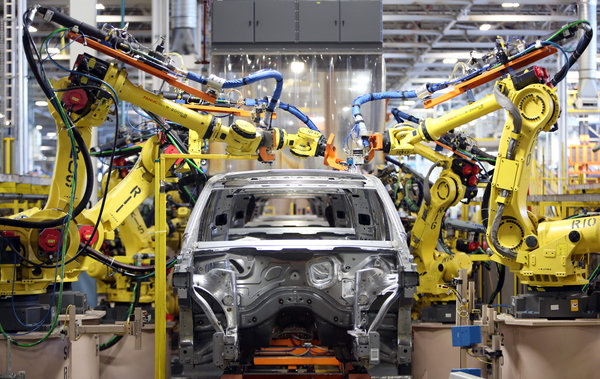 The Detroit News | 26 August 2015
AFL-CIO blasts U.S. on auto trade talks
David Shepardson
Washington — The president of the AFL-CIO blasted the Obama administration for not pushing hard enough to protect U.S. auto jobs and urged trade negotiators to back rules that would make it harder for Japanese automakers to use more parts built in low wage countries for export to the United States under a new free trade deal.
Earlier this month, The Detroit News reported long-running talks aimed at reaching a 12-nation Asia Pacific free trade deal known as the Trans-Pacific Partnerhip, or TPP, stalled amid a standoff between Japan and Mexico over autos.
"I hope it is not the case that the Canadian and Mexican negotiators are actually holding a harder line than our own government on this issue. But due to the unaccountable lack of transparency from USTR, absolutely critical decisions are being made without our input or voice. Thousands of good American jobs and an iconic American industry are at risk, and we don't even know what our government's negotiating position is," AFL-CIO President Richard Trumka said in a letter last week to U.S. Trade Representative Michael Froman obtained by The Detroit News Wednesday.
Matthew McAlvanah, a spokesman for Froman, said the Obama administration is "working toward a strong rule of origin in TPP that meets our objective of making sure that TPP benefits go to TPP countries and that promotes a vibrant domestic automotive industry and the jobs it supports. That task requires finding the right balance between the needs of domestic auto producers, who have made clear that they rely on international supply chains to be able to produce in the U.S., and our desire to promote U.S. sourcing and American jobs. In the end, we are confident that we will come to an agreement that strikes the right balance."
The issue is a big priority for the United Auto Workers union, but not for Detroit's Big Three automakers, who are focused on other key issues. Froman and his office have met on numerous occasions with the AFL-CIO, UAW and other auto officials.
The pact would eventually end America's 25 percent tariffs on imported light trucks and 2.5 percent tariffs on cars and auto parts. The tariffs have been in place for more than 50 years. Those tariffs, especially the truck tax, have forced foreign automakers to build truck and SUV plants in the United States and helped keep some would-be competitors out of the truck market dominated by Detroit's Big Three.
Froman and the negotiators have been focused on a lengthy phaseout of the U.S. tariffs on imported vehicles from Japan and other TPP countries. U.S. automakers have suggested the tariffs remain in place for 25 or 30 years, but the administration has never said precisely how long they will be in place under the deal.
American automakers fear that if Japan intervenes to weaken its currency, its automakers eventually will be able to dramatically undercut the U.S., especially when tariffs are phased out.
Trumka invoked President Barack Obama's rescue of the U.S. auto industry and the $85 billion auto bailout. "His leadership helped resuscitate the sector and provided vital demand and support for the auto parts sector. It would be an ironic tragedy if his efforts to pass the TPP undermined that effort and led to the loss of production and jobs in these sectors."
The key issue is how countries will classify vehicles as built in one of the 12 nations — and how much content from other countries can be included in what is known as the "rules of origin." The rules are in place to prevent China or other lower wage countries from being able to produce the majority of content in a vehicle and export it without paying taxes.
Trumka that the standard should remain "at least as high" as under the North American Free Trade Agreement. If Japan was successful, the TPP "will do nothing to increase jobs here in the U.S. and, indeed, will continue to accelerate the offshoring and outsourcing and production of autos, light trucks and auto parts."
If the United States agrees with Japan, Trumka said, as some reports suggest, he wanted to "convey to you my deep disappointment and anger that the U.S. government has so little regard for American jobs and the health of our manufacturing sector." Trumka said U.S. automakers could also take advantage of the rules to use more parts from China and other low-wage countries that aren't part of the trade deal.
Under the North American Free Trade Agreement, at least 62.5 percent of a passenger car or light truck's net cost must originate in North America to be considered tariff free under the agreement. Mexico wants to increase the percentage to 65 percent in the Trans-Pacific Partnership, while Japan wants it to be about 45 percent for vehicles and 30 percent for parts themselves — which would allow for a greater number of parts from low-wage countries like China and Thailand to be included.
But U.S. officials note that under complex "tracing rules" that 62.5 percent under NAFTA can actually represent as little as 53 percent. The TPP would end the tracing rules. But because the tariffs could be in place for 20 or more years, the administration argues that the issue isn't as important. They also note that under NAFTA some origin rules have been softened including on gears and transmission elements — and those changes haven't impacted U.S. production.
Mexico's auto industry is booming as automakers and parts firms around the world build new plants and expand production thanks to low wages. About 70 percent of Mexican-built vehicles are exported and Mexico and China are pushing for tougher rules.
At the same time, crucial negotiations are continuing over other auto issues that could reshape global auto production. They include how long U.S. tariffs on light trucks and cars will be in place before they are phased out; the procedures for extending tariffs if Japan fails to open its market to more U.S. exports; and the number of vehicles that Detroit's Big Three will be able to ship under a streamlined approval procedure.
Trumka said he has "no confidence that we will gain meaningful access to Japan's domestic auto market through TPP."
For more than seven years, the U.S., Japan, Mexico, Canada and eight other nations have been negotiating the Trans-Pacific Partnership that would create a massive free trade zone. The pact would cover one-third of global trade and nearly 40 percent of the world's economy. The deal could reshape auto production around the world.
After a round of talks in Maui ended earlier this month without reaching a final deal, the nations vowed to resume talks — potentially around Aug. 20 in Malaysia.
Rep. Sander Levin, D-Royal Oak, was in Maui for the talks. "We must keep working to get auto trade on the right track in the ongoing TPP negotiations. The danger is that TPP will lock in one-way trade if we don't get the terms right on tariff phaseouts, currency practices, labor standards and rules of origin. Substantial work remains to fully address these issues," Levin said.
Obama wants the free-trade deal as a cornerstone of his administration's economic legacy, and a way to boost exports of U.S.-made products. His administration also seeks a deal with Japan as crucial, since the world's third largest economy is a critical ally in a region where China is expanding its influence.
Japan and the United States have not said how long the U.S. auto tariffs will be in place — except to say that they will remain in force for an extended period — as long as any other tariff that gets phased out, and that's expected to be around 20 years.
Japan imports very few U.S. cars, even though it has no tariffs on U.S. vehicles. U.S. automakers have complained for years of other barriers to U.S. vehicles, while Japanese automakers argue U.S. companies haven't made enough of an effort to sell vehicles in Japan. Japanese automakers note they have spent tens of billions of dollars and employ thousands of Americans building cars and trucks in the United States — something U.S. companies don't do in Japan.
---