Agriculture minister says no to FTA changes on rice imports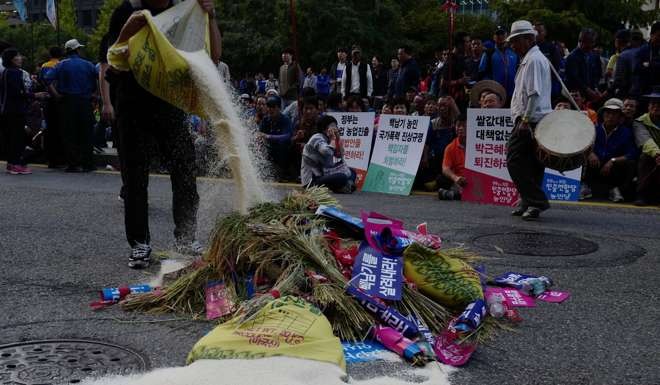 Korea Herald 2017-07-20
Agriculture minister says no to FTA changes on rice imports
South Korean Minister of Agriculture, Food and Rural Affairs Kim Yung-rok said Thursday he would not concede to any demand for an increase in rice imports from the US when talks begin regarding modifications to the Korea-US Free Trade Agreement.
The agriculture minister said the farming industry had been struggling since the FTA came into effect five years ago, as Korea's rice prices continue to plunge, with farmers blaming an increase in rice imports.
"It is not a simple task, but I will do what I can to reduce rice imports," Kim said, during an interview with Yonhap News Agency. "The farming industry has already been damaged by US imports of fruits and other products, so it is not logical for the US to put pressure on our agricultural sector to further open up."
South Korean Minister of Agriculture, Food and Rural Affairs Kim Yung-rok. (Yonhap)
Amid increased production coupled with falling consumption, the Korea Rural Economic Institute predicts the country's per capita rice consumption will hit a new low of 59.6 kilograms this year. This would mark the first time Korea's per capita rice consumption falls below 60 kilograms. Korean's annual rice consumption has halved over the past three decades.
At the beginning of this year, the country's rice inventory reached 1.83 million tons, far exceeding the United Nations Food and Agriculture Organization recommended 800,000 tons.
"On the contrary, I will try to find out if there is anything that we can demand from the US," Kim said, adding that rice represents a cultural identity and sense of pride for Korea and therefore should not be seen as a bargaining chip.
US President Donald Trump has blamed the Korea-US FTA for the US' deepening trade deficit and vowed to modify or terminate the trade deal under his "America First" policy.
US Trade Rep. Robert Lighthizer recently sent Korea's Ministry of Trade, Industry and Energy a formal request to hold a joint meeting to begin discussions on revising the FTA within 30 days. The Korean government responded by saying the timeline may not be realistic, as the country has not yet appointed its new trade minister. An official date for the FTA revision meeting has not been set.
By Julie Jackson (juliejackson@heraldcorp.com)
---