Bill C-18 – CETA combination would entrench corporate control of food system, says NFU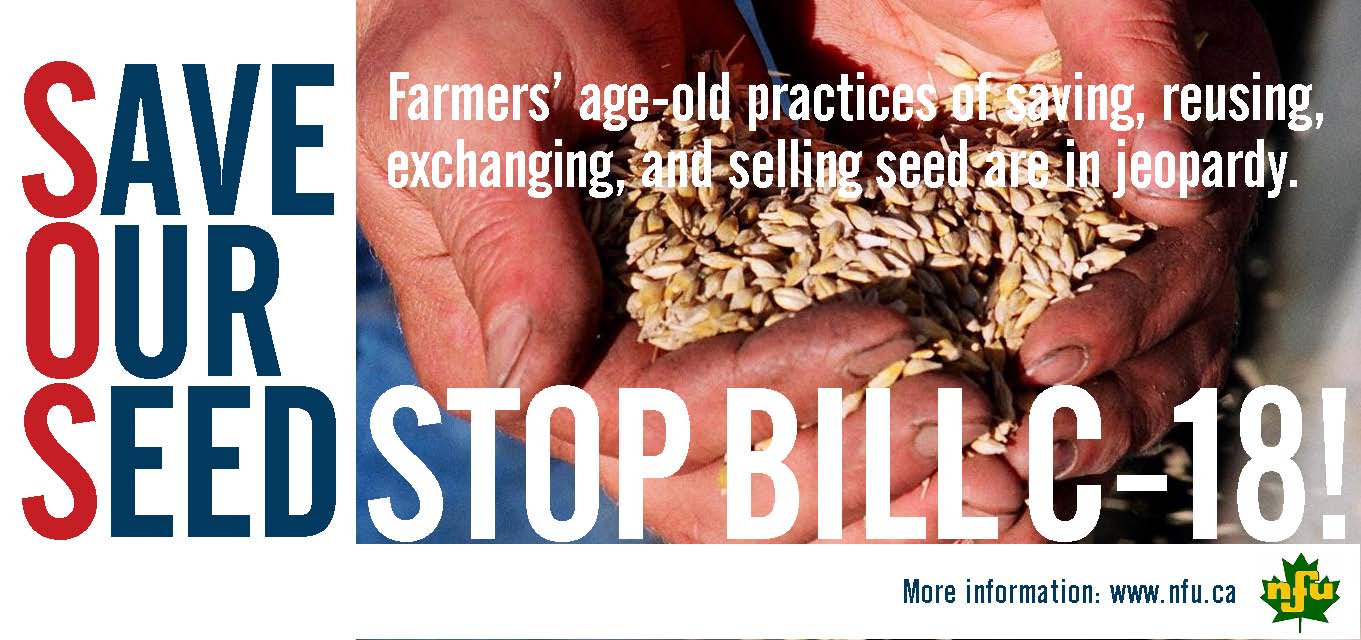 Daily Exchange | Tuesday June 17, 2014
Bill C-18 – CETA combination would entrench corporate control of food system, says NFU
Saskatoon – Canada is currently trying to complete negotiations for the Canada – European Union Comprehensive Economic and Trade Agreement (CETA) and the federal government's Bill C-18, the Agricultural Growth Act is currently before Parliament. The National Farmers Union (NFU) believes that the trade deal and the omnibus bill each have serious negative implications for Canada's sovereignty and food sovereignty. Together, these initiatives would bring in an unprecedented level of corporate control over Canada's food and agriculture system.
"Bill C-18, with its changes to the Plant Breeders' Right Act would give vast new rights to the multinational agri-business companies that dominate the private plant breeding sector, and CETA's intellectual property rights measures would give them access to powerful new legal tools to enforce these rights," said Terry Boehm, Chair of the NFU Seed and Trade Committee.
The NFU has obtained leaked versions of recent CETA negotiating text which shows that Canada has agreed to empower the courts to apply provisional and precautionary measures that include seizure of assets, destruction of equipment, and freezing of bank accounts against someone suspected of intellectual property rights infringement — that is, before any trial takes place. Plant Breeders' Rights are included among the intellectual property rights covered by these measures.
Bill C-18 would expand Plant Breeders' Rights beyond the current right to control sale of PBR-protected varieties. The PBR-holder would gain the right to sue for infringement if anyone reproduces conditions, stocks, imports, or exports seed without its permission. The Farmers' Privilege to save seed under C-18 does not include stocking (storing) seed, and the Bill enables governments to restrict the extent of Farmers' Privilege through future regulations.
"The NFU is committed to developing a food and agriculture system based on food sovereignty, which includes people's right to define their own food and agricultural systems," said Ann Slater, NFU Vice President, Policy. "Both CETA and C-18 take away control over seed, which is the foundation of our food system, and hand it over to corporations that are not accountable to the public."
"The combination of CETA and C-18 is entirely in the interests of global corporations, giving them virtually-unchecked power to decide what seed is available along with the potential to collect royalty fees from farmers every year before they plant or when they sell their crops," said Boehm. "This kind of control is reminiscent of a feudal system. These measures have no place in a democratic country. "
---