Botswana, UK want fruits of EPAs
14 July 2008
Botswana, UK Want Fruits Of EPAs
By Kabo Mokgoabone
Staff Writer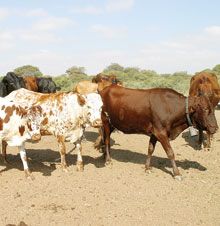 Botswana and Britain wish to see the successful conclusion of Economic Partnership Agreements (EPAs) currently being negotiated between the European Union (EU) and regional blocks in the African Caribbean and Pacific (ACP) region.
Neo Moroka, Botswana's Trade Minister and his UK counterpart, Gareth Thomas, Parliamentary Under-Secretary of State for Trade and Consumer Affairs in the UK, said at a joint press conference last Thursday that they are optimistic that a deal will be reached.
"I am optimistic that a deal can be reached," said Thomas. "Jobs will be created and that is the number one price for the EPAs". Added Moroka, who is also coordinator of SADC EPA group: "I am committed to the EPAs. There will be more jobs and opportunities for Botswana businesses and its beef". The European Union's 27 member states are currently negotiating a World Trade Organisation (WTO) a compatible trade regime with 76 ACP countries to replace the Cotonou agreement that expired in December 31 2007.
These negotiations have not been smooth as the ACP anti globalisation movements and lobby groups have given the EU hard time warning the countries in this region that the move by the Europeans was a new 'scramble for Africa'.
Botswana unions believe the EPAs are nothing but recolonisation of ACP countries and say 'the EU is coming back to deplete our (African) resources'.
Thomas noted that the UK is so committed to EPAs that it has helped Botswana with over 100, 000 pounds or P1.3 million to help in capacity building. The assistance, he said, was used by the country for workshops, to sponsor visits to Brussels and to help Botswana in the analysis of the EPAs.
Moroka revealed that after concluding the negotiations on goods that included beef, they are in the process of negotiating services. The SADC-EPA group last year signed an interim deal that allowed the negotiations to be concluded to allow smooth trade with the between EU and ACP countries.
For example, under the Interim Economic Partnership Agreement (IEPA) the eight percent levied on Botswana beef entering the EU under the Cotonou Agreement was expected to be lifted. Under the existing Cotonou trade provisions, Botswana benefits from a beef protocol that grants it a tariff quota of 18,916 tonnes per year with a 92 percent reduction in customs duties.
He says they have started a way forward in the negotiations for services.
Under the EPAs, goods and services moving between the European Union (EU) and Africa, Pacific and Caribbean (ACP) countries would be tariff free. At the same time, these free trade zones would mean that European companies would compete with smaller African companies.
Unions believe that there are options to EPAs like a Generalised System of Preference (GSP+).
Under the GSP Plus Scheme, the European Union will allow ACP countries high-level market access without breaking the World Trade Organisation (WTO) trade rules, which is what the campaigners prefer as opposed to EPAs.
---