Bush reaches out to Democrats on trade
Bush Reaches Out To Democrats on Trade
Close Cafta Vote Leads To Republican Soul-Searching, Overtures on Bahrain and Andes Pacts
By GREG HITT and BOB DAVIS
Staff Reporters of THE WALL STREET JOURNAL
December 2, 2005 ; Page A4
WASHINGTON — President Bush is starting to embrace a different political strategy for getting trade agreements through Congress : bipartisanship.
Last summer, Mr. Bush's ambitious trade agenda came within two votes of collapsing amid a bruising fight over strengthening U.S. ties to a handful of Central American countries. One reason for the close call was unusually low support from Democrats. As on many issues, the White House didn't go out of its way to seek backing from the opposition party, especially early on. And Democrats didn't go out of their way to offer it.
Now, in maneuvering on Capitol Hill this fall, the politically weakened administration has taken steps to repair tattered relations, showing flexibility on labor rights, an issue keeping many Democrats away from the Central American Free Trade Agreement, or Cafta. During recent debate in the House Ways and Means Committee on a free-trade agreement with Bahrain, U.S. Trade Representative Rob Portman made a point of assuring Democrats that the Middle Eastern country would commit to embracing international labor standards.
Maryland Rep. Ben Cardin, a leading Democrat on trade issues, has noticed a difference. On Cafta, "the administration never really gave us the opportunity to address those labor issues," he says. On Bahrain, he adds, "they gave due respect for congressional input."
That deal could pass the House as soon as next week. The votes for the pact are expected to be big in both parties — a notable exception these days for a Bush initiative.
The next big challenge for the Bush trade agenda — and for Mr. Portman's olive-branch approach — will be a proposal to link the U.S. even more tightly with Latin America, through a pact with the three Andean nations of Peru, Colombia and Ecuador.
It isn't clear how far the White House will bend on labor issues in that agreement. But even if Bush officials don't, the Latin American countries are making efforts — with White House prodding — to win Democratic support, apparently in recognition of the waning ability of Republicans to unilaterally get their way in Washington.
In meetings with lawmakers on Capitol Hill, Peruvian President Alejandro Toledo has said his country is committed to International Labor Organization rules, which give workers certain collective-bargaining rights and ban forced labor. Democrats "are concerned with labor standards," says President Toledo in an interview. "I told them, we have no problem with that. We'll put it in black and white in the agreement that we're compliant."
The overture by Mr. Toledo goes beyond what the White House and many congressional Republicans have been willing to support. Bush aides contend trade agreements shouldn't be used to explicitly set labor standards and should encourage trading partners to enforce their laws without threats of trade sanctions. Over the summer, the administration vowed new money to help the Cafta countries better protect labor rights. But those commitments didn't go far enough for many Democrats, creating divisions that nearly undid the agreement in the House.
However the issue is resolved, for Mr. Bush, the outcome of the broader outreach could well determine the success of the balance of his trade agenda. Along with the Andean deal, bilateral pacts with Panama and Thailand could land on Capitol Hill next year. The administration is working through the World Trade Organization on a 148-nation deal that would curb farm supports and tariffs, while lowering barriers to trade in services and manufacturing goods.
All those pacts likely will require cross-party support to clear Congress. In his five years as president, Mr. Bush hasn't done much to woo Democrats, preferring to work with the Republican majorities in Congress on issues ranging from tax cuts to the Iraq war.
For decades after World War II, trade liberalization had wide support on both sides of the congressional aisle, but bipartisanship had begun to crumble by the 1993 vote on the North American Free Trade Agreement, when only 102 House Democrats, less than half the total, voted for the pact. Cafta accentuated the erosion. That agreement passed the House only after frantic horse-trading among Republicans that would have been unnecessary had more than 15 Democrats crossed party lines.
With both the House and Senate up for grabs in 2006, "next year is only going to be harder," Mr. Portman said in an interview. He suggested the administration should have been able to attract as many as 40 House Democrats to Cafta. "But at the end, it was just so politically difficult for them to cross the line," he said. "That's what I would like to go back and try to avoid."
The Andean pact has many of the same features that made Cafta so contentious. It would link the U.S. economy with three impoverished countries in which wage rates are low and labor standards shoddy, and to which exporters want to ship goods that are heavily protected in the U.S., including sugar and rice. The Andean nations also are resisting U.S. pressure to tighten intellectual-property protection. The particulars are so contentious that the two sides have had 13 rounds of negotiation for a pact that was originally assumed to require half that many sessions.
Leaders of the Andean nations, which share a tumultuous history of coups and dictatorships, see the pact as critical to developing economically and politically. They were stunned at the closeness of the Cafta vote, and now worry their pact could become victim to partisan tensions in the U.S. The White House, too, is uneasy about the pact's prospects, and has urged the Andean leaders to help drum up congressional support, especially among Democrats. "They want us to do as much as we can to make the case," a South American diplomat says.
Along with Peru, Colombian leaders suggest a willingness to address Democratic concerns, even if it means signing onto a pact that would lead to sanctions if they don't enforce domestic protections for child labor, among other things. It isn't yet clear how far Ecuador is willing to go. For all three nations, such commitments would be significant, given the uneven enforcement record of the laws already on the books.
While the Bush administration isn't willing to write such terms into a trade agreement, Mr. Portman has made efforts to more directly address labor concerns on the Bahrain accord. Working with Democrats, Mr. Portman — himself a former Ways and Means Committee member from Ohio — orchestrated an exchange of letters that committed Bahrain to compliance with international labor standards.
A senior U.S. official says the exchange wasn't a shift, and that the administration would have been willing to do the same in Cafta. But Mr. Cardin, the ranking Democrat on the Ways and Means trade subcommittee, says the administration's handling of Bahrain "absolutely" represented a difference from Cafta. He praises Mr. Portman for finding a "creative way" to "give us a comfort level" on Bahrain.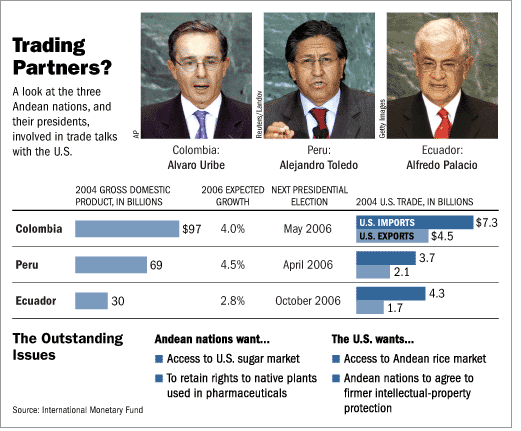 ---