Call for Govt to help our neighbours negotiate for life-saving medicines
Newstalk ZB | 25 October 2016
Call for Govt to help our neighbours negotiate for life-saving medicines
by Alicia Burrow
The Public Health Association (PHA) is asking the government to step in and help our neighbouring countries negotiate better deals for life-saving medicines.
Trade talks for the proposed Regional Comprehensive Economic Partnership (RCEP) continue this week in China.
The trade deal includes a chapter on intellectual property that health organisations say could threaten countries' access to life-saving medicines.
It's already sparked protests in East Asian countries.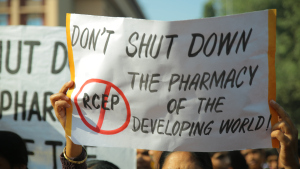 The PHA is one of 94 health and community organisations to have sent an open letter to RCEP governments through The Australian Fair Trade and Investment Network asking for the chapter to be amended.
Other New Zealand groups to oppose the deal include the New Zealand Nurses Organisation and The Mana Party.
PHA Chief Executive Warren Lindberg said the chapter would allow pharmaceutical companies to extend their patents on drugs, and set prices at whatever they like.
He said it would even override the World Trade Organisation's Agreement on Trade-Related Aspects of Intellectual Property Rights that sets minimum standards of IP rights which WTO members are signed to.
Mr Lindberg said while New Zealanders have some price-protection through the Government's drug-buying agency Pharmac, other countries don't and the medicines would become unaffordable for these poorer countries.
He said it's being championed by wealthier countries such as Japan and South Korea.
"It would lengthen medicine patent monopoly periods which would delay market entry for more affordable, generic, but essential medicines."
He said it would keep medicine prices highest in countries that need it the most - Malaysia, Thailand, Vietnam, Laos Cambodia and Myanmar.
"There is no doubt that extending patent periods will increase instances of diseases in these countries, leading to increased death and suffering for the world's most vulnerable, especially children."
But it could also be unsafe not only for the poorer countries in Southeast Asia, but also New Zealand and on top of the ethical and health implications, he added a warning to the government regarding future commerce.
"If we agree to allowing the pharmaceutical companies to a free hand then we are treating the other countries that we are wanting to have a strong economic relationship with unfairly, and it's also unsafe for us - viruses and bacteria don't obey borders."
Mr Lindberg said a balance must be struck between the rights of patent holders and the needs of impoverished people in the developing world.
"It's neither right nor ethical that richer countries like ours are negotiating to extend and protect profitability for multinational corporations to the detriment of people in poorer countries who have the basic human right to affordable medicines. There is a disturbing lack of compassion evident here."
Mr Lindberg added the agreement has similar provisions to those of concern to health officials in the Trans Pacific Partnership Agreement.
"We want the New Zealand government to negotiate much tighter deals with pharmaceutical companies, they're big and powerful and we want their products, but not at any price."
---