Call to action: 26 September 2014 in Ottawa: Together, we can stop CETA / Let's rally and march!
Todas las versiones de este artículo: [English] [English]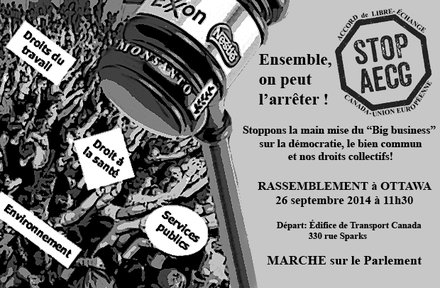 RQIC | 23 September 2014
Freely translated by Anoosha Boralessa in April 2015; not reviewed by bilaterals.org or any organization or person.
Call to action: 26 September 2014, Ottawa: Together we can stop CETA/Rally and March!
Let's stop CETA and this attack on democracy, the common good and our collective rights!
Let's all march and rally!!!
FRIDAY 26 SEPTEMBER 2014 11.30 – 13.00 IN OTTAWA
Meeting point: in front of the Transport Canada Building (330, rue Sparks) at 11.30.
March on Parliament Hill for a lunch time rally.
On 26 September 2014 some officials of Canada and the European Union shall meet during a ceremony at Ottawa to officially announce that the CETA (The Comprehensive Economic and Trade Agreement between Canada and the EU) negotiations have finished and that the text has been finalized.
While the CETA negotiations have been going on since 2009, no official text has been made public and no consultations have taken place.
Yet, after 26 September, there will be no further opportunity to amend the text.
Certain parts of the text unveiled following recent leaks revealed that the agreement will have serious and long term impacts on both sides of the Atlantic. These include the following:
– Businesses will have the right to bring governments before non- accountable international tribunals to obtain compensation if new laws or new regulations harm their profits;
– The cost of pharmaceutical products for our health system will increase by one billion dollars or more each year;
– The risk of thousands of Canadian job losses by opening up key parts of maritime transport to European businesses;
– Placing our public services in danger, by making it more difficult to re-nationalize should some privitizations fail and by making it more difficult to expand public services in the future;
– The abolition of the rights of provinces, municipalities, schools and hospitals to ear mark the best part of their budget for procurement for local products and services.
Given that the Harper government and the European Union have ignored the calls for transparency and democracy, and have finalized the agreement behind closed doors, the struggle to stop CETA is far from over. Come to hear activists from Canada and Europe address the threat that CETA represents and how we can act to ensure that this agreement will never be ratified.
Organized by the Trade Justice Network, Réseau québecois sur l'intégration continentale (RQIC), la Coalition maritime canadienne et chaîne logistique and Campact Germany.
To reach Ottawa: Seafarers International Union is running a bus service to Ottawa to participate in the rally with pick up points in Montreal, Quebec, Thorold and Toronto in the morning of 26 September. To book your place on the coach send an e mail to Verena at: vgarofalo@seafarers.ca from Monday 22 September.
---