Canada travellers to face US surcharge from US-Colombia trade pact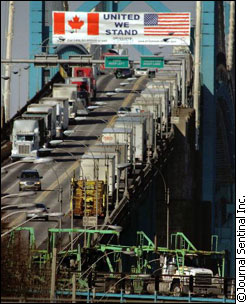 Wall Street Journal | OCTOBER 4, 2011
Canada travellers to face US surcharge from US-Colombia trade pact
– U.S.-Colombia deal scraps traveller exemption on Canada, Mexico
– Surcharge to offset lost U.S. revenue from removal of tariffs
– Canada tourists to U.S. would pay extra $5.50 on air, sea travel
By Paul Vieira
Of DOW JONES NEWSWIRES
OTTAWA (Dow Jones)—Canadian travellers face a new surcharge when travelling to the United States as part of the U.S.-Colombia free trade agreement that's before Congress.
The proposed deal includes a section calling for the repeal of an exemption applied to travellers from Canada and Mexico, partners with the U.S. in the North American Free Trade Agreement. This is meant to offset the costs of lifting tariffs on Colombian goods. As a result, U.S.-bound travellers from Canada and Mexico would pay an additional $5.50 on top of an air or boat ticket — raising roughly $533 million by 2016.
This provision was in a draft version of the U.S.-Colombia trade deal that Congress sent to the White House in July. The White House opted to keep the measure in when it sent the pact back to Congress for approval. The House of Representatives and the Senate have yet to vote on this pact along with deals involving South Korea and Panama.
"The discouraging thing is that assuming this free-trade agreement gets passed - and it probably will - this will increase imports from Colombia to the United States ... and Canada will pay for the cost of Colombian goods shipped to the U.S.," said Birgit Matthiesen, a U.S.-based adviser for the Canadian Manufacturers and Exporters, a Canadian business lobby.
Congress would have to agree to remove the surcharge on Canadian and Mexican travellers from the U.S.-Colombia deal. Canada and the U.S. have one of the world's largest trading relationships, as three-quarters of Canadian annual exports are U.S. bound.
Officials from the U.S. Trade Representative's office weren't immediately available for comment. A spokesman for Canada Trade Minister Ed Fast was also not available.
This development in Canada-U.S. relations emerges after the White House installed so-called protectionist, Buy American provisions in its $447 billion job-creation plan, also before Congress. Fast has formally asked for talks with his U.S. counterpart, Ron Kirk, to resolve the trade skirmish.
Furthermore, Canada and U.S. negotiators are said to be nearing a deal on a sweeping border pact aimed at easing bottlenecks and aligning security procedures. However, concern among Canadian businesses is mounting about whether Washington is willing to loosen cross-border trade regulations.
Meanwhile, another measure that could hit Canadian exporters is a jump in the merchandise processing fee that U.S.-bound imports face, which is included in the U.S.-South Korea agreement. The charge applies to non-NAFTA goods, meaning Canadian and Mexican imports are eligible for exemption. But Matthiesen said roughly 20% to 30% of Canadian goods don't fall under the NAFTA exemption as exporters don't bother applying for a NAFTA certificate.
– By Paul Vieira, Dow Jones Newswires: 613-237-0669; paul.vieira@dowjones.com
---