Cargill CEO: Move forward on free trade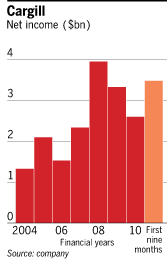 Star Tribune | June 6, 2011
Cargill CEO: Move forward on free trade
Article by: GREG PAGE
Growing up in the late 1960s and 1970s in North Dakota, I came to appreciate the need for markets far away from my hometown in order for the local farmers to make a go of it — whether those markets were in Bismarck or Bogota.
The simple fact is that our local farm economies wouldn't survive without access to other markets.
Unfortunately, free trade agreements with South Korea, Panama and Colombia have been sitting idle as politicians sort out the political calculus and possible impact of these three agreements on 2012 reelection chances.
In my mind, elections should be the product of decisionmaking, not its purpose — especially when the future of local farmers and the nation's economy are at stake.
As the United States and global economies struggle to recover from the 2008 financial collapse, and as too many people across the globe remain jobless and hungry, it is irresponsible to accept the status quo on trade.
Now is the time for the U.S. Congress to ratify its free trade agreement with South Korea — as well as those with Panama and Columbia — to stimulate economic growth, jobs and global food security.
While global food security would advance more quickly under adoption of the World Trade Organization's Doha Development Round, commercially meaningful bilateral agreements must be passed now or the United States will be left behind.
Just the other day I heard someone say they were impressed to learn that the United States — just one country — accounts for about 9 percent of the world's trade in goods and services. It might surprise them that the United States last year took in 12.5 percent of the world's imports, creating a $500 billion deficit in trade accounts.
While imports provide U.S. manufacturers access to competitive inputs, the trade statistics highlight an inherent opportunity. Agreements that open trade — particularly with a large trading partner like South Korea — provide markets for goods produced by farmers in the Dakotas and factory workers in Detroit.
It also, frankly, creates much-needed opportunities and access to food for people living in the world's net-food-deficit markets.
The U.S.-South Korea agreement offers a clear example of how two developed countries can more meaningfully address their food security needs by lowering prices for consumers through the elimination of barriers to movement of food, but also by facilitating a strong investment climate for the private sector in both countries.
Increased trade and investment is critical to the competitiveness of both countries' agricultural and food industries, and is necessary for helping ensure a secure pipeline of food for the long term. In fact, total U.S. agriculture gains in the Korean market are estimated at more than $1.9 billion annually, an increase of about 40 percent.
All that said, there is a fear among detractors of the agreement that the United States will get the short end of the stick and that jobs and the U.S. economy might be negatively impacted.
First, since November, President Obama and his administration have negotiated modest yet substantive changes to the trade pacts to address some of the concerns.
Second, the U.S. Department of Commerce shared in April that the United States had $522 billion in merchandise exports last year (up 23.1 percent over 2009) and a $21.1 billion trade surplus in manufactured goods with the 17 nations with whom we have free trade agreements.
Today's reality is that we cannot be truly competitive in the world economy when other countries benefit from preferential market access and treatment for their products while the United States faces unnecessary trade barriers and higher taxes.
While we are slow to ratify trade agreements, other countries have stepped up to gain access for products. Case in point: South Korea has been particularly aggressive in negotiating agreements with the European Union and others, including Australia and Canada.
If other countries gain access to markets in South Korea — or for that matter, Colombia and Panama — through free trade agreements first, U.S. farmers, ranchers, workers, businesses and communities are put at a greater disadvantage.
Given the incredible growth taking place in Asia today, it's alarming to think that the United States has only one free trade agreement in that region.
The U.S.-Singapore free trade agreement has resulted in reduced tariffs on goods and lowered or eliminated barriers to trade. But when it comes to participating in the world's fastest-growing market, one is not enough.
Today, like in my hometown in the 1960s and 1970s, it is imperative that the United States look beyond its own market and give its farmers and businesses a chance to compete. We live in a global marketplace, and this country must participate if it is to succeed. Passing these free trade agreements is a good step in that irection.
Greg Page is chairman and CEO of Cargill, an international producer and marketer of food, agricultural, financial and industrial products and services.
---