Chilean Organizations Reject Trans-Pacific Partnership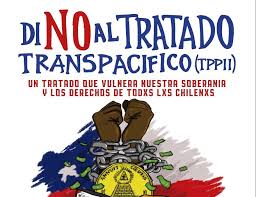 Prensa Latina, Cuba
Chilean Organizations Reject Trans-Pacific Partnership
27 May 2019
Santiago, Chile (Prensa Latina) Forty-one organizations from the region of Aysen, in southern Chile, demanded that their representatives in the Senate reject the Trans-Pacific Partnership (TPP11) when submitted to vote.
They sent a letter to Senators Ximena Ordenes and David Sandoval, in which they said that the trade mechanism would affect national sovereignty and the safeguard of the environmental and cultural heritage, and local economic development.
The signatories of the letter questioned the vote on that agreement without an in-depth debate involving all sectors of the country, with previous studies on its environmental and social impacts, or with an audit based on previous treaties.
Among other arguments, they noted that the TPP11 reinforces the privatization of seeds and, in the case of Aysen, it limits access to seeds and hinders the public policies that can affect the companies' profits.
They considered that the treaty will increase the revenue from foreign products that will compete with low tariffs with those from the local economies, thus affecting the livelihood of farmers, artisans and traditional activities.
In addition, the TPP11 includes a mechanism that hinders access to generic medications, thus making pharmaceutical monopolies stronger and affecting the people who need them, so it might also worsen the situation of Chile's public healthcare system to acquire them.
---