China deal trumps Province, First Nations on energy projects : treaty expert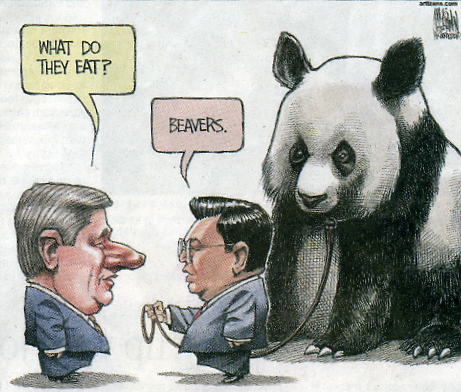 The Tyee | 24.09.2014
China deal trumps Province, First Nations on energy projects : treaty expert
FIPPA carries big labour and regulatory implications for LNG development.
By Andrew Nikiforuk, Today, TheTyee.ca
One of the nation's investment treaty experts warns that Canada's highly preferential trade agreement with China could have important implications for resource and LNG development in British Columbia and the rest of the country.
The controversial Canada-China Foreign Investment Promotion and Protection Agreement (FIPPA), which the Harper government signed into effect without parliamentary debate, "means that any B.C. government or legislature or courts would now be subject to obligations arranged by the federal government and China under the treaty," says Osgoode Law School professor Gus Van Harten.
It also means that the FIPPA obligations can overrule the priorities and rights of First Nations in the province.
Van Harten offered two critical examples on how FIPPA could impact the province.
If the government of British Columbia decided to change the rules on hydraulic fracturing of shale gas to protect water or reduce methane leaks, those changes could be contested by Chinese investors as unfair and a violation of their expectations at the time they invested.
In addition, if the B.C. government stipulates that more British Columbians must be employed by the industry as opposed to foreign temporary workers, then Chinese investors could contest those changes too, also as an unfair change to the rules in place when they invested.
"If they want to change the rules about extraction or employment, the government would be restrained by obligations in the treaty," adds Van Harten, the author of Investment Treaty Arbitration and Public Law.
The government of B.C. has already signed an agreement with China that would allow the importation of cheap labour from the superpower to build LNG terminals.
How does FIPPA connect to that labour agreement ? Van Harten wonders.
"The governments of British Columbia and the federal government have to come clean about their decisions and how they may have been influenced by obligations under the treaty," adds the law professor.
Give public a 'window' on treaty
The B.C. government has actively subsidized shale gas and LNG development with low royalties, infrastructure incentives, free water, and free geoscience amounting to more than a billion dollars worth of taxpayers' money.
A B.C. government website boasts that "British Columbia offers low corporate tax rates, royalty credits, tax credits, and refunds for investments in research and development, machinery and equipment."
Under FIPPA the cessation of any of these subsidies could be challenged by Chinese investors too. It's not easily predicted, Van Harten notes, because under FIPPA the situation with subsidies is much more complex. Some subsidies are allowed by the agreement while others are not.
The treaty expert would like to see provincial or federal legislation that provides the public with "any information available to government about how the treaty has been invoked by foreign investors so the public can have a window on the treaty's impact on government in Canada."
FIPPA, which faces ongoing legal challenges from First Nations, has many controversial chapters and significantly departs from other trade agreements in critical ways.
Expert lists concerns
Here are just a few of the treaty's unique components as explored by Van Harten in a forthcoming and in-depth study for The Canadian Yearbook of International Law.
It gives China unique Most Favoured Nation status and "obligates Canada, but not China, to open its economy to the other state's investors."
It allows Chinese investors, in general, to purchase assets in Canada that Canadian investors would not be able to purchase in China.
It limits Canada's ability to screen Chinese investments to review under the Investment Canada Act while preserving China's ability to screen Canadian investments at any level of government and without the limitations imposed on screening by the Investment Canada Act.
It allows foreign investors from either country to bring claims against the other, but it does not allow either government to bring claims against foreign investors — a clear imbalance.
It omits a reservation designed to preserve aboriginal rights, something included in all of Canada's 25 other similar investment and trade agreements.
The treaty has a lifespan of 31 years — a longevity greater than the great majority of similar treaties signed by Canada.
It gives a special status to foreign investors such as the China National Offshore Oil Corp. (CNOOC) or China Petrochemical Corp. (Sinopec) in the form of substantive legal protections not enjoyed by other private parties, including domestic competitors.
It allows investors such as Chinese state-owned corporations to bring claims against the government in secret. (Van Harten says the arbitration would have to be made public only when an award is issued.)
Furthermore the treaty's definition of investment is extremely broad.
It does not mean just land or buildings but includes resource concession rights, debt instruments (that is, portfolio investment), intellectual property rights and "any other tangible or intangible... property and related property rights acquired or used for business purposes."
Who controls LNG benefits ?
Chinese interest in the province's proposed 14 LNG terminals is substantial and largely confined to powerful state-owned corporations with direct ties to China's totalitarian Communist party.
These mega-firms, among the world's largest oil companies, have all been embroiled in scandals and corruption probes around the world, including Canada.
Sinopec, China's largest company by revenue, has a 15 per cent stake in the Pacific Northwest LNG project.
CNOOC owns a 60 per cent stake in the Aurora LNG project proposal and is pursuing an interest in Prince Rupert LNG project.
And PetroChina Co. Ltd. is a major partner in a consortium led by Royal Dutch Shell to build an LNG project in Kitimat.
A 2013 report by the US-China Business Council noted that, "Investment and market access restrictions continue to be a priority concern" for U.S. and Canadian companies trying to operate in the restrictive and highly protectionist Chinese economy.
No independent public review on the implications of unprecedented treaty took place prior to its ratification.
Trade between China and Canada is highly imbalanced. In 2013 Canada exported about $20-billion worth of raw goods (ores, fish and wood pulp) to China, while it imported $50-billion worth of machinery, footwear, furniture, toys and plastics from that country. [Tyee]
---