China to negotiate upgraded FTA with ASEAN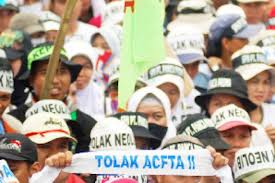 Xinhua | 2013-10-26
China to negotiate upgraded FTA with ASEAN
BEIJING, Oct. 25 (Xinhua) — China is ready to start talks with the Association of Southeast Asian Nations (ASEAN) over an upgrade of the China-ASEAN Free Trade Area (CAFTA) at an early date, said Chinese Vice Premier Wang Yang here on Friday.
Wang made the remarks while meeting ASEAN trade ministers.
Calling China and ASEAN important cooperation partners, he said China hopes to step up cooperation with ASEAN.
ASEAN trade ministers expressed willingness for joint efforts with China to fulfill related proposals on CAFTA and take trade ties to a new high.
China is the largest trading partner of ASEAN, and ASEAN is the third-largest trading partner of China.
The CAFTA is the largest free trade area in the world in terms of population and third largest in terms of nominal GDP. Under the free trade agreement, tariffs will be reduced to zero on almost 8,000 product categories, 90 percent of imported goods.
---