China unresponsive over FTA talks with Sri Lanka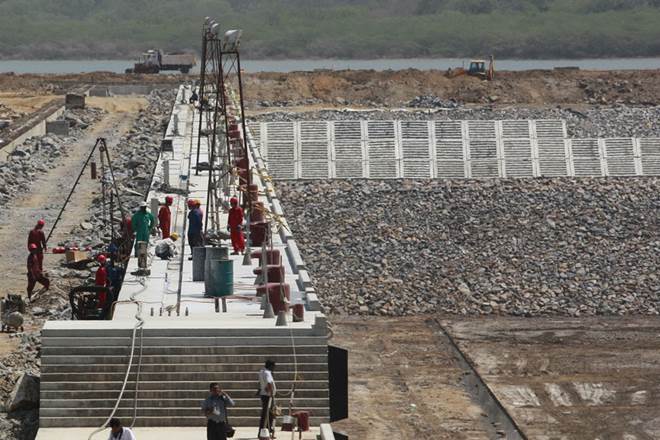 Nikkei Asian Review | 19 July 2018
China unresponsive over FTA talks with Sri Lanka
by MUNZA MUSHTAG
COLOMBO — The Sri Lankan government is exasperated by China's slowness to conclude a Free Trade Agreement (FTA) after Colombo sent Beijing a formal request to resume talks over three months ago.
Some observers believe Beijing has turned a cold shoulder after the present coalition government balked at incurring any further debt. The previous government of President Mahinda Rajapaksa formed close ties with China through major infrastructure projects that some contend have created a "Chinese debt trap."
In April, Malik Samarawickrema, the minister of development strategies and international trade, made a formal request through the Chinese embassy in Colombo to resume talks on the much-hyped FTA.
The Chinese have yet to respond with any dates amid reports that they are "unhappy" about various clauses being put forward by Sri Lankan negotiators, including a proposal to review the agreement every ten years.
"We have said we want to resume talks, and we are waiting for a response from them," Chief Negotiator K. J. Weerasinghe told the Nikkei Asian Review. "We might hear from them in the next two to three weeks." The last round of talks took place more than a year ago.
"We need to focus on the level of liberalization and ensure the FTA will be an equal playing field for both countries," Weerasinghe said. The FTA was due to be concluded last year, but there are now doubts about any agreement being reached by even late this year.
The present government came to power in 2015, but has failed to show the tangible economic benefits of Rajapaksa's government, which oversaw a rush of Chinese-funded infrastructure projects.
The new president, Maithripala Sirisena, and Prime Minister Ranil Wickremesinghe want the FTA in place to boost trade and investment, and to salvage their images as elections loom in 2020.
China is behind some of the country's largest ever infrastructure projects, including Hambantota Port, Mattala Airport, the Lotus Tower, and the ambitious Colombo Port City, which all date back to the Rajapaksa years. Both China and the Rajapaksa camp have denied allegations of corruption.
Rajapaksa's brother Gotabaya, the former defense secretary, is expected to be fielded as a presidential candidate in 2020. Even though Gotabaya is out of office, he met in March with Cheng Xueyuan, the new Chinese ambassador, for what he later described as a "productive meeting" with regard to strengthening bilateral ties.
Sri Lanka has seen an infrastructure boom since the end of a 26-year civil war in 2009, but that brought a heavy influx of Chinese workers and contractors. Locals have complained of an uneven playing field and of missing out on opportunities.
According to Rohan Karunaratne, the president of the Ceylon Institute of Builders, more than 40% of construction projects in the country have gone to Chinese contractors who employ Chinese workers. "Local contractors are facing severe problems," said Karunaratne. "Some contractors have had to sell their machinery or mortgage houses to survive and pay bills."
Karunaratne also expressed doubts about the benefits likely to flow from the stalled FTA. Despite making repeated appeals on behalf of the construction industry to all levels of government, the response so far has been dilatory. "The government is only focusing on investment coming into the country," he said. "They are not focusing on uplifting the local industry, and if this trend continues, we will be hit the hardest."
---