Civil Society raises major concerns on India's engagement with the massive RCEP trade deal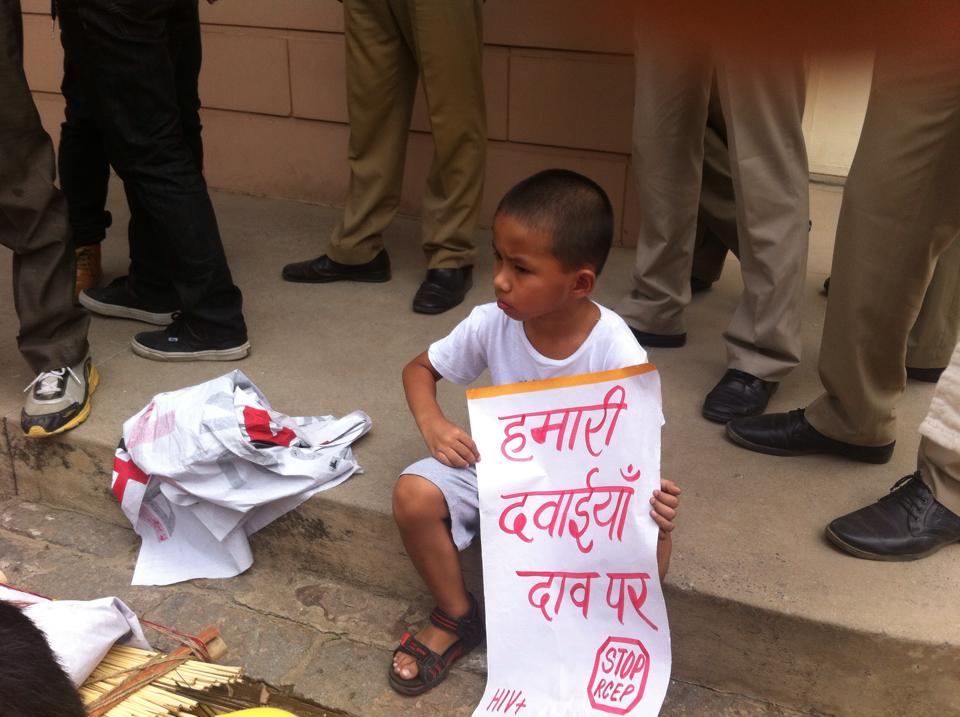 DNP+ | 11 Jun 2015
Press Statement: Civil Society raises major concerns on India's engagement with the massive RCEP trade deal
11 June 2015, New Delhi—As the eighth round of negotiations on the Regional Comprehensive Economic Partnership (RCEP) trade agreement take place in Kyoto, Japan this week, farmer's groups, trade unions, civil society and patient groups are urging the Indian Government to halt the negotiations, make the negotiating texts public and hold consultations with all the relevant stakeholders, in light of the potential negative impact this agreement could have on access to medicines, livelihood of farmers, quality public services and overall social and economic development of the country.
Patient groups including Delhi Network of Positive People (DNP+) along with International Treatment Preparedness Coalition-South Asia rallied outside the Embassy of Japan in New Delhi to send a signal about the dangers the trade deal poses to access to medicines.
Started in May 2013, the RCEP is being negotiated between the 10 ASEAN (Association of Southeast Asian Nations) countries and six trading partners, Australia, China, India, Japan, New Zealand and South Korea.
Several countries involved in negotiations on RCEP, including Japan, are also participating in another potentially harmful trade deal known as the Trans Pacific Partnership (TPP) Agreement being led by the USA, and will push for harmonization of RCEP with TPP. There are already widespread concerns about the implications of the TPP on future policy space for industrialization, access to medicines, internet freedom, environment, and the right of the government's to regulate in public interest. The TPP is being severely opposed by civil society groups, trade unions and people's movements worldwide.
Quotes on the harmful impact of RCEP trade deal could have from Civil Society Organizations who are closely following the negotiations:
RCEP and its impact on access to medicines
"We have learnt through leaked texts that Japan and South Korea in closed-door negotiations, are aggressively pushing for stronger intellectual property (IP) provisions such as patent term extensions, data exclusivity and lowering of the patentability criteria. If accepted, these provisions would extend monopoly protection beyond what is required by existing international agreements and create new kinds of monopolies, even after patent-based monopolies have expired or in cases where they never existed to begin with.

We had expected RCEP to be the antithesis of the Trans Pacific Partnership Agreement (TPP) that seems to serve the interests of the multinational pharmaceutical corporations, but in fact, the leaked RCEP negotiating text appears to be a carbon copy of the worst IP provisions of the TPP that seek to stamp out generic competition and restrict access to affordable medicines to millions of people.

DNP+ along with ITPC-South Asia are protesting outside the Japanese embassy in New Delhi, asking why Japan and other countries in the RCEP negotiations are waging a war against poor patients, and urging the Japanese government to remove the harmful intellectual property (IP) provisions in this trade deal that could delay the availability of low-cost generic medicines."

— Loon Gangte, DNP+ and International Treatment Preparedness Coalition-South Asia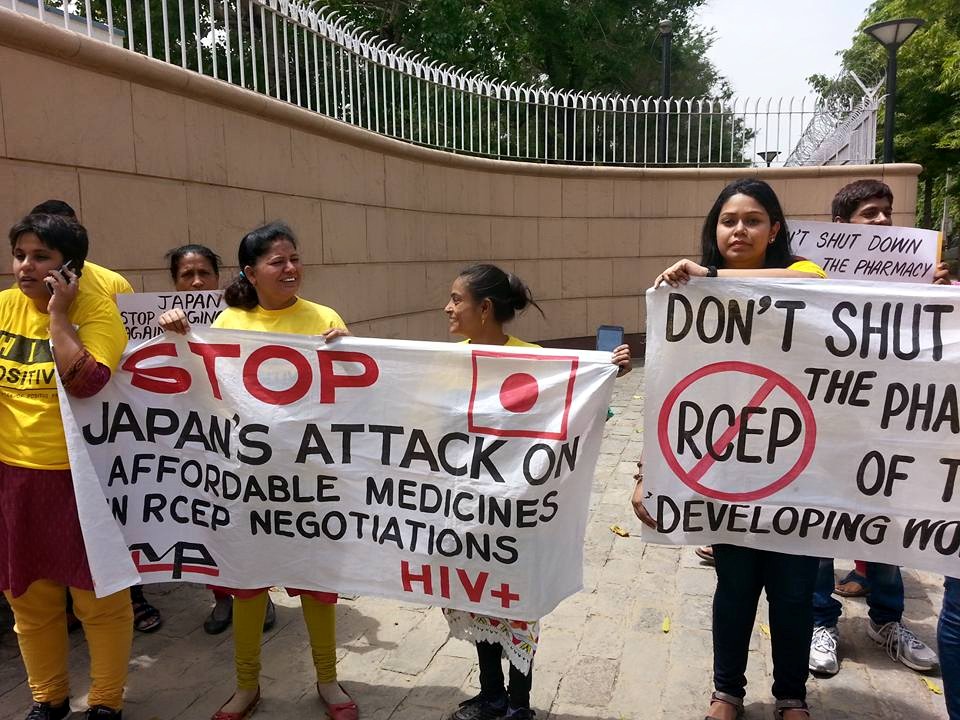 RCEP & Seed Trade
"The leaked IP chapter of RCEP proposes all its members to either accede to or ratify over a dozen international IP-related agreements, including the International Convention for the Protection of New Varieties of Plants (better known as UPOV) and particularly its 1991 version which gives primacy to corporate plant breeders, putting restrictions on farmers to save seed and researchers and breeders to access protected plant varieties for further research and development only on prior permission and payment of royalties to the breeder.

India has intentionally kept out from the UPOV 1991 Act to 'protect' small farmers and non-corporate breeders, allowing them to register varieties bred by them and also to seek 'benefit sharing' if the varieties developed by them are used as base material by the seed industry to make new seed products. RCEP membership will have serious implications for the domestic law on the protection of plant varieties and farmer's rights.

The leaked IP drafts of South Korea and Japan contain a clear ask for IP protection for plant varieties that goes well beyond what the World Trade Organisation (WTO)'s IP rules require from its member countries. RCEP in its current form will put additional pressure on India to join UPOV 1991, a clear WTO-plus measure, from which India has intentionally remained out so far. Seed companies from China, Japan and Korea are also pushing for harmonisation of seed IP laws in the region through the Asia & Pacific Seed Association."

— Shalini Bhutani, Legal researcher and policy analyst
RCEP and Agriculture
"With countries such as Australia and New Zealand that have an aggressive interest in dairy, RCEP will increase imports of agricultural products into India. It is unfortunate that the Government of India has not consulted with farmers' organisations regarding the RCEP negotiations, especially in light of the already visible adverse impacts of the ASEAN free trade agreement on India's agriculture."

— Yudhvir Singh, Convener of Coordination Committee of Farmers Movement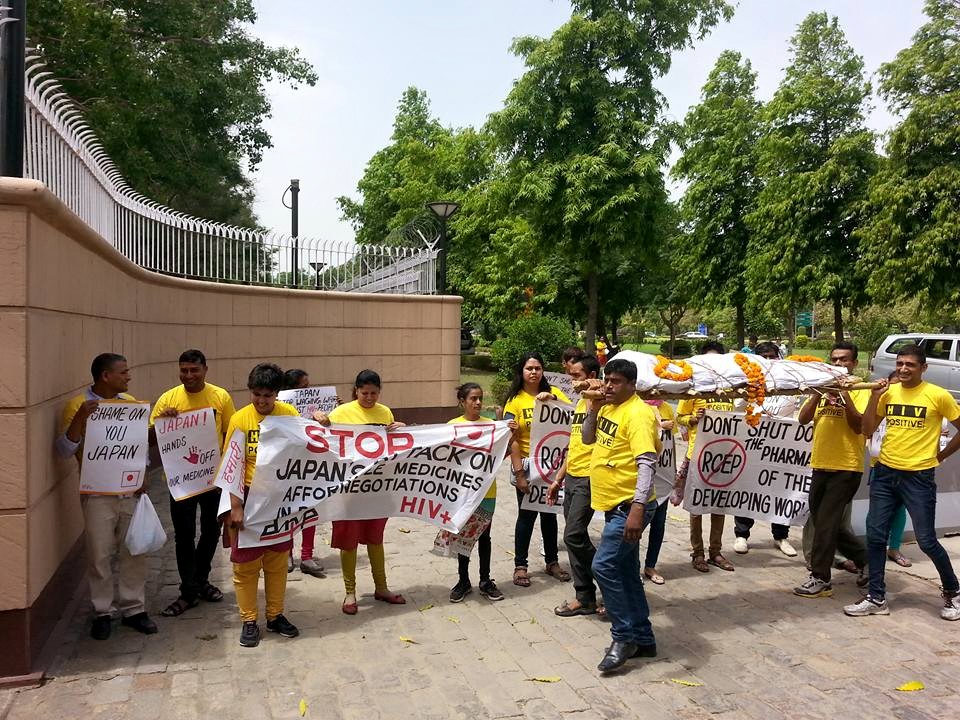 Threat to Democracy
"The RCEP agreement is a threat to democracy and accountability of the Government of India towards the public. Not only is this deal is being negotiated in secret without proper consultation, it will also bind future governments regardless of the decisions of national elections, parliaments and courts. The RCEP is a direct threat to the provision of quality public services as they are designed to encourage privatization, seek to create new and powerful rights for large multinational corporations and restrict governments' ability to regulate policies in the public interest."

— Lakshmi Vaidhiyanathan, Secretary for the Asia Pacific Region, Public Services International
Impact Assessment of FTAs is a must before moving forward
"It will be good to remember that at the beginning of the current government's term, our Commerce Minister Smt. Nirmala Sitharaman had stated that the government will review all its FTAs to assess their impact. It is unfortunate that even before concluding this review the government is going forward with an FTA of such scale and depth.

For long, Indian civil society has been demanding the socio-economic impact assessment of FTAs including the RCEP, against their contribution to inclusive and just development. But the government has not taken any step in this regard."

— Afsar Jafri, Focus on the Global South
Notes to the Editor
– Leaked IP text proposed by Japan: http://keionline.org/node/2173
– Leaked IP text proposed by South Korea: http://www.keionline.org/node/2239
More photos here: https://donttradeourlivesaway.wordpress.com/2015/06/11/protest-by-dnp-and-itpc-south-asia-at-japanese-embassy-against-inclusion-of-trips-plus-provisions-in-rcep/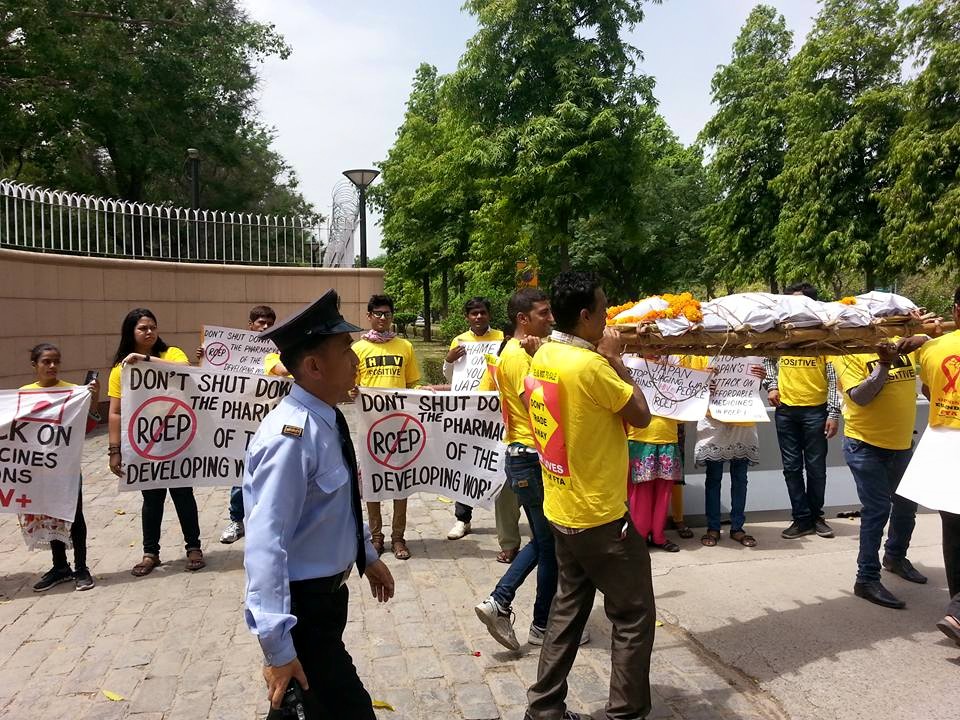 ---