Dairy 101: The Canada-U.S. milk spat explained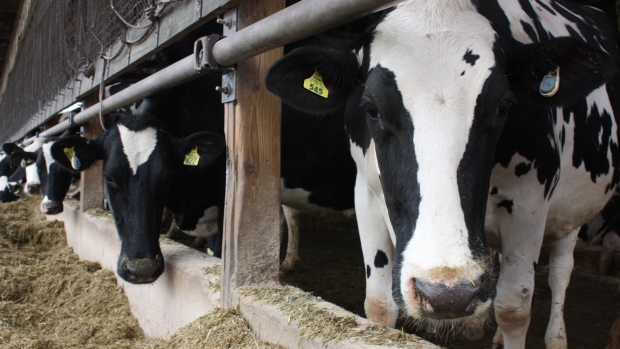 iPolitics | 22 April 2017

Dairy 101: The Canada-U.S. milk spat explained
by Kelsey Johnson
Canada's dairy industry is officially on U.S. President Donald Trump's radar.
After months of speculation – and much anxiety – the American president has vowed to defend the interests of Wisconsin dairy farmers against Canada's "unfair" dairy industry. Canada says the American arguments are unfounded and overproduction, both within the United States and globally, is to blame. Prime Minister Justin Trudeau has gone as far as to insist the system 'works' and isn't going anywhere.
But what does it all mean? Let's try and break it down, while answering some common questions.
What is supply management?

Supply management is a farming system used in Canada for dairy, poultry and eggs where production, prices and imports are regulated. Farmers purchase quota allotments that determine how much product they are allowed to produce and sell. The system was brought in during the 1960s as a means of protecting farmers from large price swings that were forcing producers out of business.
Agriculture is one of a handful of shared federal-provincial responsibilities. As such, each province has marketing boards that oversee the various supply managed sectors and keep tabs on supply and demand levels. The boards determine the price producers are paid for their products depending on end use. They do not dictate the retail price for supply managed products.
National organizations – like the Canadian Dairy Commission – help coordinate federal and provincial policy discussions with the various boards and stakeholders. The Dairy Commission also sets annual reference prices that are then used by the provinces to determine the price of industrial milk or 'raw milk' in each province. The Commission is also responsible for issuing special import permits when required.
What is diafiltered or ultrafiltered milk?

Diafiltered milk, or ultrafiltered milk as the Americans call it, is milk that has been finely filtered through a membrane in order to target its protein content. It has a similar consistency to coconut milk and typically has a very high protein content (greater than 40 per cent). When raw milk is processed for butterfat (necessary for making butter) it is separated into two parts: butterfat and what's called 'non-fat solids,' commonly referred to as milk ingredients. Diafiltered milk is non-fat solids that have been processed one step further.
An American invention, diafiltered milk is used primarily by dairy processors in Canada to make cheese because it produces higher yields while making less waste (in this case skim milk). Skim milk, due to oversupply, is often dumped or used on farms as animal feed or dried down to powder form. Its oversupply has been a longstanding issue that the dairy industry has been grappling with for years.
Major diafiltered milk production plants have been built in recent years along the Canada-U.S. border in states like New York and Wisconsin to service Canadian demand. Because of an ongoing oversupply of milk – and its ingredients – within the United States, the American dairy industry has been exporting the product in liquid form to Canadian processors. The Canadian Border Services Agency considers it to be a protein ingredient and therefore it is not subject to Canada's high dairy tariffs.
Further, because the product was invented post-NAFTA, Canadian officials have been told that they are not allowed to subject American diafiltered milk imports to what's known as a tariff rate quota (TRQ) – that cap the amount of product allowed in. That's meant the American dairy industry has had complete and unfettered access to the Canadian market place for diafiltered milk for several years. (Diafiltered milk is not used by American dairy processors.)
Canadian dairy farmers have repeatedly demanded Ottawa crack down on these imports by enforcing Canadian cheese standards that require cheese be made with a certain amount of milk. Farmers, particularly those in Quebec, have argued the American product is displacing Canadian milk sales and are putting their operations at risk. Discussions on the matter are ongoing, however, no changes to the import rules around the product have been made as of yet.
At the moment, Canadian processors are not equipped to make diafiltered milk – although iPolitics has been told some companies are in the process of making investments to do so.
Why are the Americans – and Donald Trump – mad at Canada?

Thanks to butter's popular comeback, there is currently a very heavy demand for butterfat in Canada, which means a surplus of 'non-fat solids'. To deal with the surplus, the Canadian dairy industry created a new milk class in March – called Class 7 – to price milk ingredients like protein concentrates, skim milk and whole milk powder.
The new class, which was backdated so that it took effect Feb. 1, is one part of a National Ingredient Strategy currently being negotiated between Canada's dairy farmers and its dairy processors. Talks on the pending strategy have been ongoing since July. It should be noted that Ontario actually brought in the new milk class in the spring of 2016 – a move that later prompted the rest of the industry to move ahead with the new national class as authorized by the Canadian Dairy Commission.
The Americans, Australians and New Zealanders insist the new pricing class has effectively pushed them out of the Canadian dairy market. They want the new pricing regulations challenged at the World Trade Organization. The U.S. industry has embarked on a fierce letter writing and lobbying campaign in recent months, both at the state and federal level, to urge their representatives to retaliate. As of yet, there has been no formal notification from the Americans as to whether they plan to take the matter to the WTO.
Canada's dairy industry has repeatedly insisted the strategy meets Canada's WTO trade obligations.
Meanwhile, one major American producer, Grasslands Dairy Products Inc., recently cancelled milk contracts with some 75 Wisconsin producers starting May 1. The processor has said that decision was made because of the new Canadian regulations. Canadian dairy and government officials vehemently dispute those claims and blame the farmers' current financial strife on a weakening global dairy market and overproduction within the United States.
So, is there overproduction?

In simple terms, yes. The world dairy market is currently oversupplied with milk thanks to overproduction and declining consumer demand because of the rising popularity of beverages like almond milk and soy milk. Russian sanctions against Western agricultural imports – including dairy goods from Europe – and fluctuating demand from China have also affected the global dairy marketplace.
Dairy farmers around the world are struggling. Australia, for instance, recently approved a $450 million bailout package for its dairy industry, while the European Union offered its dairy farmers €500 million in additional support last July. In the United States, agriculture secretary nominee Sonny Perdue, who grew up on a dairy farm, was recently peppered with questions during his confirmation hearing about how government could help ease the hardship of the country's dairy industry, which is facing historically low prices.
The American agricultural industry is heavily subsidized. In WTO filings, the U.S. reported in 2012 that it had paid out $3.84 billion in direct payments to producers. Further, the U.S. has several dairy price support programs in place for its dairy industry that have paid out millions in support for the sector.
American dairy farmers are also growing increasingly worried about whether they will continue to have access to the Mexican dairy market now that U.S. President Donald Trump has vowed to renegotiate the North American Free Trade Agreement. Mexico is the Americans' biggest export market for dairy. About 15 percent of dairy production in the United States is exported, the National Milk Producers Federation says – with one-third of that going to Mexico in the form of milk powder, cheese and whey protein. Those exports are valued at about US$1.2 billion.
To put that in context, that's nearly double the value of dairy goods shipped north to Canada, according to the U.S. Department of Agriculture. Canada is the United States's second largest export market.
Does the United States export dairy products to Canada?

Yes. In fact, the United States is Canada's largest exporter of dairy goods. Recent American and Canadian data show it has been on the uptick the past five years. Federal data show that in 2015, the United States exported $474,770,480 (149,312,542 kg) in dairy goods to Canada – a 54 per cent increase from the $306,783,020 (99,974,456 kg) worth of goods shipped north in 2012.
The United States also currently has a dairy trade surplus with Canada to the tune of some $400 million.
So, how does NAFTA fit into all this?

Canada and the United States have been sparring over dairy and poultry access for decades. Agriculture has a tradition of being one of the most sensitive areas to deal with in a trade negotiation and has a reputation for being a highly protected sector globally.
The Americans have made it very clear they want to secure more access to Canada's dairy and poultry markets when NAFTA is renegotiated. So far Ottawa has pledged to defend the sector in any negotiation. However, recent concessions could make those negotiations challenging – and the Americans know it.
Under the Comprehensive Economic Trade Agreement (CETA) with the European Union, European cheesemakers were granted permission to export 17,700 tonnes of cheese to the Canadian market – representing about four per cent of Canada's cheese products. CETA is expected to take effect later this year. How the new cheese quota will be allocated is still being sorted out by Canadian officials.
Then there's the Trans Pacific Partnership. Under that deal, Canada had conceded 3.25 per cent of its annual dairy production to foreign markets (the Americans had been hoping for 10 per cent access.) Trump formally withdrew the United States from the TPP trade deal earlier this year, but it's expected the Americans will try to recoup those market gains in a NAFTA renegotiation.
---