Dairy push for Peru FTA to be signed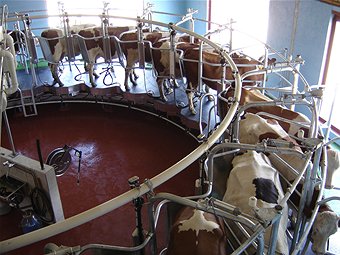 Northqueens Land Register | 27 November 2018
Dairy push for Peru FTA to be signed
Failure to ratify the Peru-Australia free trade agreement (PAFTA) this year will cause major agricultural industries to miss out on improved market access and tariff cuts, says the country's peak dairy group.
The Australian Dairy Industry Council (ADIC) has urged the federal parliament to offer bipartisan support for the Peru-Australia FTA following the release last week of a new Senate report that again recommended the agreement be ratified and implemented.
ADIC Chairman Terry Richardson said the Peru-Australia FTA represented a positive step forward for the dairy industry and will provide greater opportunities for Australia to expand its export capacity.
"It is vital that the Australian Government ratifies and implements this agreement as soon as possible so that Australian businesses can secure the market access and competitive advantage that it will provide," Mr Richardson said.
The deal will reduce 99.4 per cent of the tariffs Australian exporters have previously faced with Peru.
Australian dairy exporters will also receive improved market access in the form of an export basket quota of 7000 tonnes of dairy product in the first year of implementation, rising by 300 tonnes per annum and peaking at 10,000 tonnes in the 10th year.
"This is a good outcome for Australian dairy farmers and the industry in general," Mr Richardson said.
"Historically, Peru has been a sensitive market for dairy imports, so this is a positive achievement.
"The Australian dairy industry is recognised worldwide for producing sustainable, premium quality products and we're excited that this new deal will provide access to a growing market."
The agreement will provide a greater degree of certainty for Australian exporters and ensures they will have improved access to a highly competitive marketplace, as well as placing Australia on a more even playing field with international competitors.
"International trade is essential for the growth of our industry. Increased market access promotes stronger demand for Australian products, which helps underpin local farmgate milk returns and provides a framework for profitable industry growth," Mr Richardson said.
---