David Cameron urged to exempt the NHS from TTIP deal after unions claim it is at risk from being sold to American corporations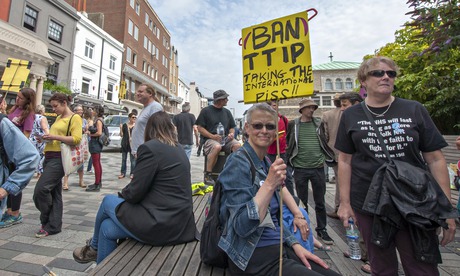 The Independent | Thursday, 17 July 2014
David Cameron urged to exempt the NHS from TTIP deal after unions claim it is at risk from being sold to American corporations
Unions are concerned that the deal could make it difficult to reverse failed privatisations of health services
Jim Armitage
Unions today claimed the NHS was under threat by the giant US-EU trade agreement known as TTIP despite assurances from negotiators that it was exempt.
The Unite union in particular has been concerned that the deal, which will sweep away swathes of local regulatory safeguards, could make it difficult for future governments to reverse any failed privatisations of health services.
This is because of a part of the TTIP proposals that make it possible for companies to take legal action against countries if they act in a way that would jeopardise their future profits. The plan is to create international courts that would hear such disputes.
However, the EU's Trade Commissioner Karel De Gucht this week said the NHS and other public services will be exempt, echoing his chief negotiator Ignacio Garcio Bercero's pledge.
But Unite remains unconvinced. It pointed to a letter from Mr Bercero to the Parliamentary group on TTIP in Westminster in which he admits health services are "in principle within the scope of these agreements and ongoing negotiations."
The letter goes on to explain that the negotiators are "confident" EU member states will still be able to manage their health systems independently.
However, the union remains concerned the assurances are not adequately categorical.
Its general secretary, Len McCluskey said: "There is no doubt the NHS is at risk because of TTIP.
"David Cameron must now make clear he intends to exempt the NHS from TTIP, otherwise our health service could be irreversibly sold to American corporations.
"He must listen to the growing concerns in communities up and down the country. Why won't he answer the question? Are we going to use our veto to exempt health from the EU US trade agreement?"
Friday sees the end of the current round of TTIP negotiations in Brussels.
TTIP was a key pledge from Mr Cameron during Britain's presidency of the G8 last year. EU governments and the US say it will create jobs and boost the economy by sweeping away trade restrictions.
---