Disagreements surface over China-backed Asia trade deal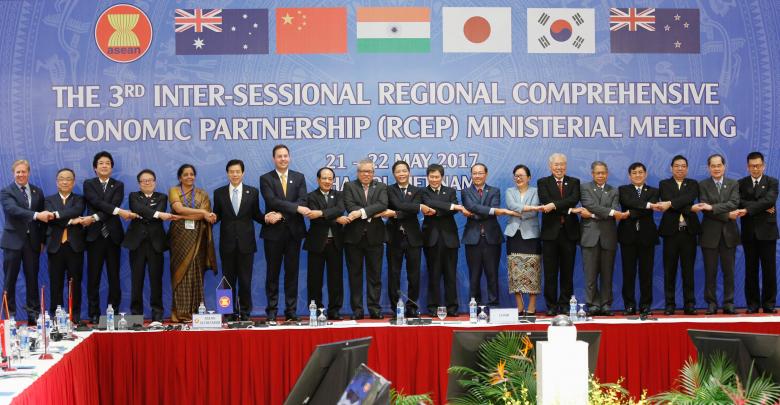 Reuters | 22 May 2017
Disagreements surface over China-backed Asia trade deal
Asian countries disagreed over a China-backed free trade deal at talks on Monday, raising questions over a target for concluding negotiations by the end of the year.
The Regional Comprehensive Economic Partnership (RCEP) would create a free trade area of more than 3.5 billion people, bringing together China, India, Japan, South Korea, Australia and New Zealand as well as Southeast Asian nations.
The RCEP talks, which began in 2012, have been given new impetus by the U.S. withdrawal from the Trans-Pacific Partnership (TPP) Agreement. China is not part of that deal.
The main focus of RCEP is reducing tariffs, which India in particular is nervous about, and while it might have provisions for greater freedom of movement, this is another big sticking point.
Trade ministers from the 16 countries negotiating RCEP met in Hanoi on Monday. The negotiations followed a weekend of talks among Asia Pacific Economic Cooperation (APEC) countries that were overshadowed by fears of U.S. protectionism under President Donald Trump's "America First" agenda.
Malaysia said some progress was made in Hanoi and that the RCEP negotiations remained on track. In a statement, its trade ministry said two out of 20 chapters of the RCEP agreement have been concluded and that some of the remaining chapters were nearing conclusion.
"The ministers acknowledge that RCEP is currently the only mega free-trade agreement (being) negotiated globally and are of the view that efforts must be exerted to conclude the negotiations expeditiously," Malaysia said.
However, officials involved in the talks privately expressed doubts over the target of completing the discussion stage by the end of 2017 given the disagreements that surfaced. India in particular is reluctant to give up on tariffs, they say.
"They are concerned that major tariff elimination will cut revenue and their competitive position, especially against China," said one official who did not want to be identified as the talks were private.
India Guards Tariffs
India refused to offer any additional tariff reductions on Monday, the officials said.
"We have already mentioned what we want and it's that model with which we will be going forward. We insist on that," India's Trade Minister Nirmala Sitharaman said at the talks' close.
She said there has been "incremental progress" and that India was willing to put in a "lot of effort" to reach a comprehensive and meaningful deal.
India wants greater freedom of movement in the RCEP framework, but that's a problem for other countries, the officials said.
The RCEP proposes no protection for labour rights or the environment.
"There's still a long way to go," New Zealand Trade Minister Todd McClay told Reuters. "There is a renewed desire to find a way to a high quality outcome. But it's going to take a lot of hard work to get it done by the end of the year."
Ministers of the RCEP countries will next meet in the Philippines in September.
Members of the TPP trade deal agreed on the sidelines of the meeting to pursue it despite Trump's decision to abandon the agreement in favour of bilateral arrangements with Asian countries.
---